Grand Teton National Park, Wyoming
Grand Teton National Park seems to represent the original American Dream; it is a model of our nation's natural wonder and a symbol of the pioneers' exploration of the West.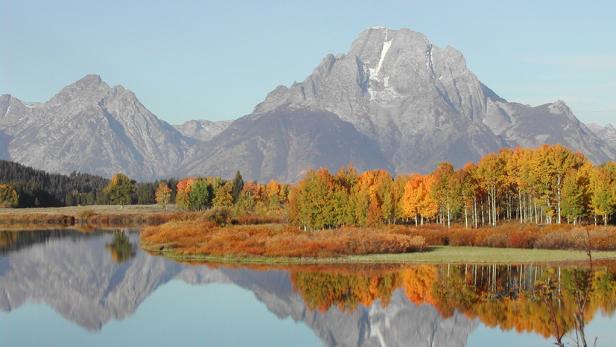 Jackson Hole, Wyoming
For me, the ideal vacation day ends with sore muscles, dirty hiking shoes and a warm drink while watching the sun set over an alpine lake. That's why my fall getaway is Jackson Hole, WY. Combine stunning vistas of the Tetons with exciting outdoor activities, take out the tourists, and you have a perfect place to forget that you have to be back at work the next week. — Josh Levin, Digital Operations Manager
We're sorry, there seems to be an issue playing this video. Please refresh the page or try again in a moment. If you continue to have issues, please contact us here.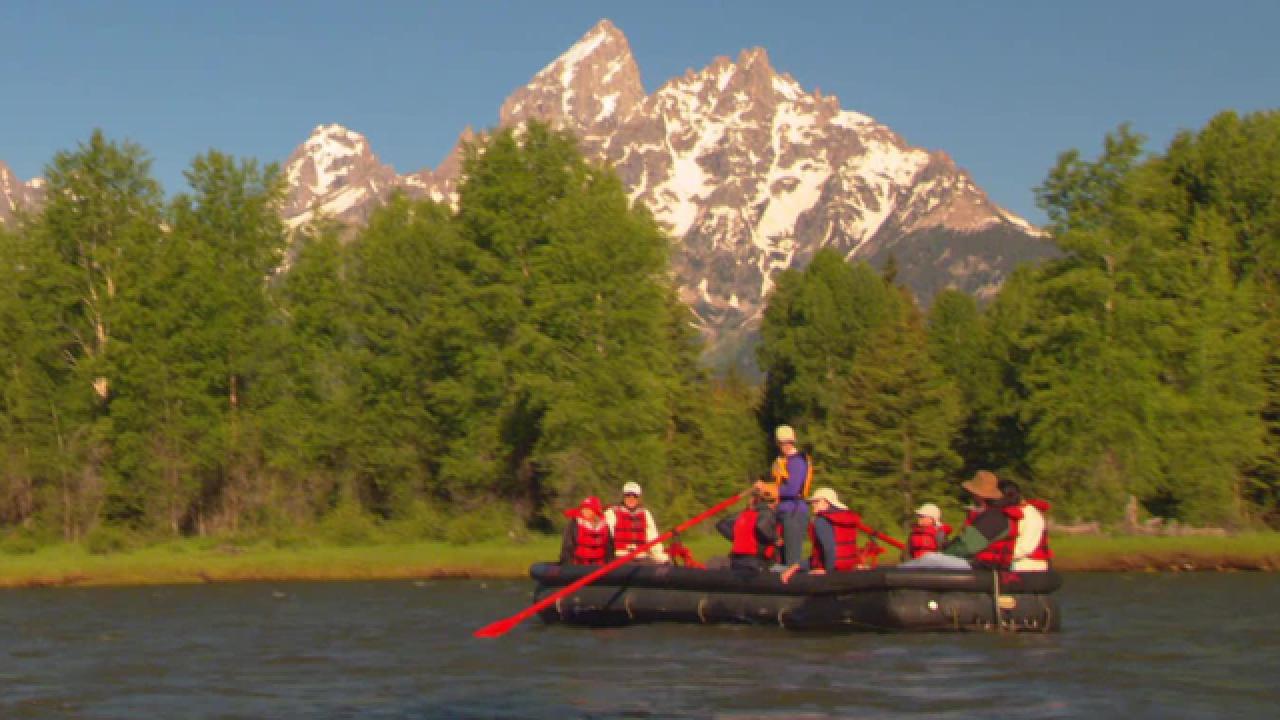 Grand Teton National Park seems to represent the original American Dream; it is a paragon of the natural wonders possessed by our nation, of pioneers' exploration of the West and the glories of the land. Grand Teton is home to the "purple mountains' majesty;" it is America at her finest - where grace has clearly been shed on Earth.
One glance at the cornflower-blue sky reflected in placid lake water ensconced by a red, pink and purple sea of wildflowers and it's no mystery why so many settlers decided to end their westward journeys in this mini-Utopia. Originally encompassing only the Grand Teton Range and six glacial lakes, this national park was eventually enlarged to include the Jackson Hole Valley. Named by the renowned Jebediah Smith after fur trader David Jackson, Jackson Hole was at times home to legendary figures. The explorer John Colter discovered the region on his 1807 exploration of Yellowstone country, and the infamous Ed "I Robbed 15 Stagecoaches in an Hour" Trafton, known for speedy thievery during the Yellowstone Park Robbery of 1914, called the region home. The popularity of the region grew, and soon communities such as Wilson, Jackson, Kelly and Moose began to grow, along with the tourist-friendly dude ranches.
Today, the prospectors and Conestoga Wagons are long gone, but Grand Teton and Jackson Hole are still hot commodities. Many visitors are merely en route to Yellowstone, but one look at mighty Owen or Teewinot peaks, or glimpsing the vast park terrain from Signal Mountain, even a drive along Grand Teton Road and one thing becomes overwhelmingly clear: This is one park more than worthy of travelers' sole attentions. In the tradition of the great pioneers - explore, explore, explore!

Geological History
As the Earth's tectonic plates collided some 60 to 80 million years ago, land was compressed and thrust upward, forming the Rocky Mountains. After this occurrence, the Earth's crust stretched and moved, creating a fault line. Approximately 6 to 8 million years ago, the blocks forming the land on either side of the fault shifted: the western block moved upward, creating the Grand Teton Range; while the eastern block was pressed down, creating the valley. Glaciers, rain and wind eroded the landscape, shaping it to the topography we see today.

Park Activities
The Moose Visitor Center is the starting point for wet and wild Snake River float trips through mild whitewater and possibly past a moose or two. At Cathedral Group Turnout, visitors will have breathtaking views of Owen, Teewinot and Grand peaks, and are within easy hiking distance of Hidden Falls. Sensational sunset cruises from Jackson Lake to Waterfalls Canyon depart from the Colter Bay Marina and are a great way to view the park vistas. Fans of winter will enjoy the various cross-country skiing and snowmobiling opportunities that await them in the varied terrain of the Tetons.

Where to Stay
With scenic views throughout Grand Teton National Park, overnight options are available for all visitors. From the exquisite service and accommodations of Jenny Lake Lodge, to the historic facilities of Jackson Lake Lodge, and the relaxed settings of ranches and family resorts such as Triangle X, Signal Mountain, Flagg Ranch or Colter Bay Village, the park provides comfortable locations to spend the night. Many of these facilities are full-service accommodations including multiple restaurants, activities and price ranges to make your stay enjoyable.

Nearby Sights/SideTrips
It's all too easy to fall in love with the lands of Grand Teton, but visitors will be even more enamored when seeing this splendid landscape from an entirely unique perspective. When the urge to embrace Grand Teton Valley strikes, the Wyoming Balloon Company is here to help! A hot air balloon trip offers a stunning perspective on the rolling valleys, craggy mountains and wilderness of the region - not to mention a freshly squeezed juice and champagne celebration. These trips grant visitors sights they never imagined seeing, and an airborne experience they never imagined having.