Ski Guide: Squaw Valley, California
Squaw Valley Alpine Meadows offers thrill-seekers 6,000 skiable acres. From easy slopes to challenging bowls, there's something for the entire family.
Surrounded by six mountains on Lake Tahoe, California's north shore sits Squaw Valley Alpine Meadows. With the acquisition of Alpine Meadows in 2011, Squaw Valley features 3,600 acres and Alpine Meadows features 2,400 acres, offering 6,000 total acres on one lift ticket or season pass. It's a wonderful mix of easy slopes, challenging bowls and intense steeps. Skiing at Squaw started in 1949, but it was the mountain's selection to host the 1960 Olympics that truly put it on the international trail map. Squaw also holds a reputation as the birthplace of American extreme skiing, a reputation that began in the early 1980s when Scott Schmidt jumped several of Squaw's 100+ foot cliffs. Not every skier or snowboarder who travels to Squaw is as thrill-seeking as Schmidt, and the mountain offers plenty for athletes of all skill levels.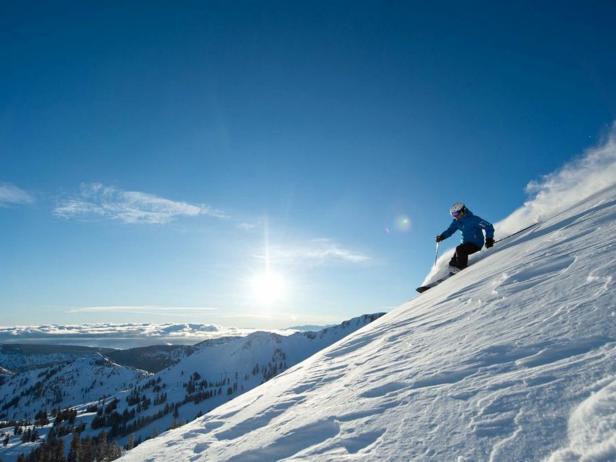 Skiing at Squaw Valley Ski Resort in California
With 14 resorts, endless backcountry, 300 to 500 inches of snowfall annually and notoriously sunny skies, Lake Tahoe is one of the best places to ski and snowboard on Earth. Choose from bustling village resorts to mom and pop hills, steeps to mellow runs, Tahoe provides the works.
High Camp, a hub for beginners and intermediates, offers sweeping views of Lake Tahoe and the High Sierras. You can ice-skate year-round at the Olympic Ice Pavilion, visit the 1960 Olympic Museum, and in late March, go from spring skiing to swimming at the High Camp Pool & Hot Tub. There are also two restaurants and a café at High Camp.
Save your money for lift tickets and apres-ski by staying at one of the many accommodations in nearby Truckee. Both the Holiday Inn Express and Hampton Inn start at about $150 a night in the high season.
Splurge at the Resort at Squaw Creek, where luxury accommodations are topped off with a triple chairlift reaching from the hotel's doorstep to the top of Snow King peak. During peak times, deluxe rooms can cost up to $350 a night.
For less glitz, spend your nights at the PlumpJack Squaw Valley Inn, originally built as the home for the 1960 Olympic delegation. Refined and elegant, the inn is also home to the PlumpJack Café, featuring a seasonal menu paired with wines from the PlumpJack winery.
Power up for a day on Squaw's slopes with one of the 63 omelets available at the Squeeze In on Donner Pass Road in Truckee. If you're eager to make first tracks, grab a breakfast biscuit to-go at the Sierra Sunrise Biscuit Company, located at the base of the cable car station.
On-mountain dining includes the 14,000-square-foot Arc restaurant at the Gold Coast mid-mountain lodge. Two wine bars and stir-fry, salad bar and sandwich food stations can provide a filling lunch for less than $10.
Eat at least one dinner at Suko Yama Sushi at the east end of The Village at Squaw Valley. The menu offers a unique, California-style sushi menu with fresh fish delivered and cut daily, organic vegetables and everything made to order from scratch. You can also order noodles, tempura, teriyaki and katsu.
Click here for a full list of Squaw Valley's restaurants and bars.
Squaw village is home to an array of shops that include The North Face, Patagonia, PlumpJack Sport, Oakley, locally-made Dorinda's Chocolates and many more. Click here for a full list of the outdoor fashions (and more) available in the base village.
Aside from sipping hot chocolate in front of a blazing fire after a morning perusing the shops at Squaw Village, non-skiers can burn some calories ice-skating at the Olympic Ice Pavilion, snow-tubing, dog-sledding, cross-country skiing and snowshoeing. Of course, pampering is always an option, too, with the indulgently relaxing treatments at the Trilogy Spa.
Biggest Bang for Your Buck
Take advantage of the Tahoe Super Pass Gold, available each year for $1,149 for adults 19-64 (kids and seniors are half the price). The gold pass offers unrestricted access to 6,000 acres at Squaw Valley and Alpine Meadows, plus 50-percent off at all 16 Mountain Collective resorts worldwide.
Check out the often-overlooked Red Dog and Squaw Creek lifts, which service trails for intermediates and experts. Head off the beaten path and reap the reward of wide-open, unpopulated trails.