Get a look at some of London's top hotels.
Known for its edgy rock n' roll glamour, the Sanctum Hotel in London's Soho is a 30-room, 4-star boutique hotel converted from 2 historic Georgian townhouses. Rent a Harley and tour London like a rock god. Afterwards, keep the party alive all night long at the 24-hour rooftop bar (complete with a Jacuzzi). Located in London's Soho neighborhood, it should come as no surprise that the unique property is known for its hip clientele.

Pros: Great Soho location, unique boutique hotel experience
Cons: If the 24-hour rock n' roll lifestyle isn't your thing (or if you're a light sleeper), this may not be the hotel for you
Step back in time as you walk through the doors of the Stafford Hotel -- known for its classic luxury, 300-year-old wine cellar and world-famous American Bar. Located in London's historic St. James neighborhood, the elegant and timeless property prides itself on its excellent concierge service and "home away from home" feel. In fact, Frank, the head concierge, was recently awarded the title of "Best Concierge in the World" by Luxury Travel Advisor. Follow him on Twitter @franklystafford for tips and info on London events.

Pros: Great St. James location, excellent concierge service and knowledge of guests' likes and dislikes
Cons: Doesn't have the hip and chic feel of the Sanctum Soho, but it all depends on your taste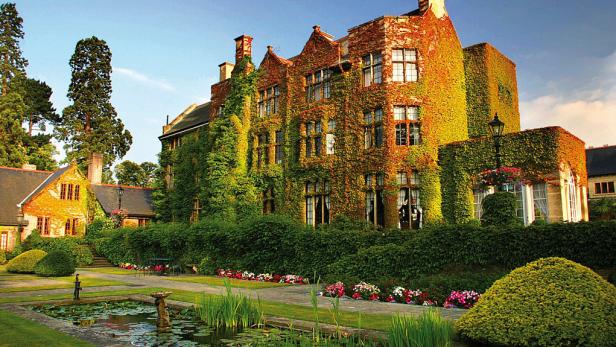 Pennyhill Park Hotel and Spa
Basil and Debbie's next stop takes them out to the English countryside to Pennyhill Park Hotel and Spa, where more traditional luxury and 45,000-square-feet of spa facilities grab Debbie's attention. Unfortunately, this regal retreat will cost the Rudawskys $12,000 for their 5-night stay.
Situated in the gorgeous English countryside, the Pennyhill Park Hotel and Spa is a sprawling 5-star luxury resort. You'll feel like English royalty as you wander the tranquil grounds, play a round of golf and dine at the Michelin-starred chef's restaurant. Oh, and did we mention the spa? The 45,000 square-feet of spa facilities are sure to grab your attention.

Pros: Beautiful location, plenty of activities, great dining
Cons: Located about an hour west of central London