Roaming With: World-Traveler Arnelle Lozada
Meet this traveler, humanitarian and photographer.
Arnelle Lozada has a dream job because for her, it's not really a job at all. Traveling the world, capturing it with her photography and then giving back through her humanitarian efforts with Humanity Unified and Aspire Rwanda are what make Arnelle worthy of roaming with. You can check out Arnelle's photography on Instagram and follow her travel adventures on her website This Beautiful Life, and find out more about her here:
Who is Arnelle and how did she get here?
I'm a newly 31-year-old young woman on a constant journey, not to discover myself, but to define myself – while documenting it along the way and sharing it with those who are interested. I got here by doing so many things wrong and a few things right.
What or who inspired your initial urge to travel?
I always wanted to travel because I was always told that it broadens your perspective, opens your mind, and provokes empathy. I could say that I travel for the sights or for the food, and both things would be true. But in my opinion, the people always make the place. If I connect with the locals at a destination, it will always make my time there immeasurably better than at a place with locals who are less engaged, even if it has better food and prettier beaches. I travel to meet people, hear their stories, and learn about cultures, so human connection is essential. Sometimes that even means simply deepening my connection with the people I'm traveling with.
How did photography and videography come to be in your life? Did you take classes, a class or are you self-taught? What's your go-to camera and lens when traveling?
I'm proudly self-taught. I took photography class in high school where we had to develop our photos in the dark room, but that's it. It's the age of information, and anything that you want to know or read about is right at your fingertips, and I've always embraced that. If I want to learn something, I search for it online, and I do it enough times until it becomes second nature. I began shooting as a hobby in high school, but I started taking it seriously about 7 years ago. My go-to camera lens is the 16-35mm for my Canon 5dMkII. It's one of the only lenses that I feel can closely capture the grandeur of a scene or landscape.
What has inspired your curiosity for filming the world as you see it, and not how everyone else see's it?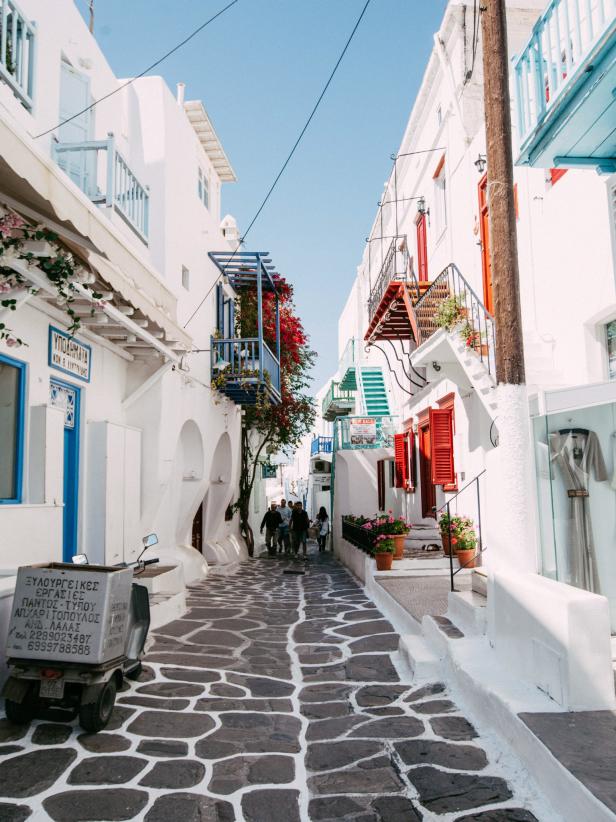 Mykonos, Greece
Arnelle Lozada has a dream job because for her, it's not really a job at all. Traveling the world, capturing it with her photography and then giving back through her humanitarian efforts with Humanity Unified and Aspire Rwanda are what make Arnelle worthy of roaming with. When asked her favorite place in the world, she lists Mykonos, Greece as a top spot because it's a photographer's dream. 

My desire to define my own voice in this age of over-stimulation on the Internet, and in turn using that voice to inspire good, and inspire change.
According to a recent post on your website about your trip to Santorini, your passion for the great outdoors is stronger than your love for the big city. How much quality time do you try and spend outside, whether when traveling or at home? What are some of your favorite activities to do outside?
I need the visual/mental stimulation of being outdoors, so I try to step outside at least once or twice every day, even if it's just to a coffee shop to work. And as much as I so wholeheartedly love so many of the adventurous things that we can do outdoors (that I've done this year) – like scuba diving, horseback riding and riding motorcycles – my favorite will always be sitting down on a chair, bench or blanket while people watching and simply appreciating and being present in my surroundings.
You took a recent trip to Rwanda, which some might say served as a voluntourism trip. Tell us a little bit about that and why you were there?
I work with a nonprofit organization called Humanity Unified, and we work closely with a local NGO based in Rwanda called Aspire Rwanda on a series of projects to help the poor communities in Kinyinya rise above poverty. Our goal is to raise money to help provide the resources they need to build a better future, so that they can become self-sustaining. Our first project is a farming cooperative, and we're helping them get better seeds, better irrigation, better storage, and educating them on proper business tactics to maximize their harvests. Additionally, we're helping educate the women on their rights, and the men on the concept of positive masculinity, in the hopes of cultivating better relationships within families.
If someone reading this Q&A or scanning through your beautiful photographs on Instagram, was inspired to travel and be involved in humanitarian work, but needed advice on how to get started, what would you say to him/her?
Just do everything with purpose. When there is purpose involved, not much can stand in your way. Connect with like-minded individuals who want the same things as you, and learn from them and how they got to where they are. Find a cause that you wholeheartedly believe in, and figure out how you can contribute and what you bring to the table, whether it be your skills, your work ethic or simply your labors of love. I truly believe that selflessly helping others and making other people happy, goes hand in hand with your own happiness and re-instilling purpose.
There are customs and traditions in each country that you visit. How do you prepare yourself - mentally and/or physically - before arriving in a new country?
A lot of research and reading about what is respectful/disrespectful in a country, along with jotting down a few of the key words and phrases that are essential anywhere like "hello," "goodbye," "how are you," "please," and "thank you." I've also found, though, that asking locals about their traditions and cultures upon arrival is not only a great conversation starter, but a great way to show that you care about their way of life.
You currently go back and forth between Los Angeles and San Francisco. For someone who hasn't been to either city yet, what are 3 must-see spots in each city?
I'm currently based in San Francisco but go back to Los Angeles every month for work. In San Francisco, definitely go to Lazy Bear SF for a very unique and tasty communal dining experience. Anthony's Cookies for dessert (best cookies in town). Andytown Coffee Roasters for some of the best coffee and pastries San Francisco has to offer (try their Snowy Plover). Lastly, Dolores Park on a sunny day for a completely impromptu gathering of hundreds of San Francisco residents that convene for a common purpose: to enjoy the sun.
In Los Angeles, I specifically enjoy the downtown area most. Head to the garment/jewelry district for great deals on goods and materials to fuel your DIY projects. Take a seat at Verve Coffee to work in a beautifully lit and stimulating atmosphere with good food and other like-minded individuals who enjoy a caffeinated workday. Check out Kazunori for delicious hand rolled sushi with some of the freshest fish in town; Perch for a fine drinking/dining experience with sensational views and Natural Selection for their healthy take on a breakfast burrito with some of the best fresh salsa I've had in years.
What's your favorite place in the world and why?
The Philippines because it's my home country, everyone is so kind, and the food is out of this world. Bali for those same reasons (minus the home country part). London because the people there are some of the best I've met. Santorini and Mykonos because they're a photographer's dreamscape, with some of the best lighting anywhere in the world.
What is on your "must see" list for the rest of 2016-2017?
— Iceland and the (blue) lagoon.
— Big slide in Switzerland
— Sky dive in a country I've never been to.
What are 10 things you never leave home without?
— Sony a5100 (point and shoot)
— Mophie universal outlet charge with international adapters
— Roamproof solar powered battery
— Urban Decay's Brow Beater
— Glossier Perfecting Skin Tint