Great City Foodie Baskets
Sample a city-specific Harry and David foodie gift.
It's undeniable that food and travel go hand-in-hand. And certain cities are inseparable from their signature dish: Cincinnati chili, New York bagels and cheesecake, Memphis BBQ and Chicago-style pizza.
Tapping into that food-city association, Oregon-based titans of gourmet food gifts Harry & David have created some city-specific food baskets perfect for that homesick New Yorker now living in the Midwest or great as a gift for a college student about to set off for his freshman year in Chicago.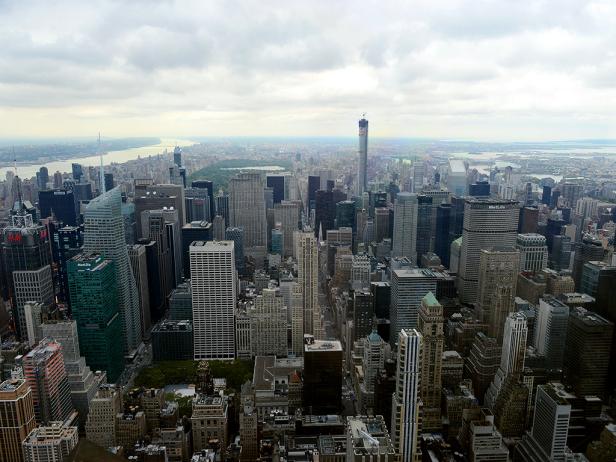 View from the Empire State Building in New York City
Travelers from around the world visit the Empire State Building, making the 103-story trip up to the observation deck. Visit esbnyc.com for tickets and tour hours.
NICOLE RIVELLI PHOTOGRAPHIE
I'm always struggling with a little low-grade homesickness for the city where I spent a good chunk of my impressionable post-college youth, so I sampled the NYC basket, which comes with a very rich, New York-style cheesecake, a cute taxi cab cookie, a very nice hunk of absolutely delicious double cream Dutch Hollow Dulcet cheese from Beecher's Handmade Cheese in the Flatiron District and sourced directly from the company's cows who hang outside Albany, New York. The assembled goods aren't necessarily from notable NYC businesses (so no Zabar's, Murray's Cheese or Dean & Deluca) but are meant more to evoke the spirit of that city's unforgettable food. There's also a super-rich, dense Wolferman's chocolate babka, a Napoli applewood smoked salame with Sangiovese wine from the relatively new-school Olli Salumeria. Also in the mix: a cute tea towel printed with the names of notable local landmarks, some Harry & David tiramisu coffee and assorted chocolate-dipped espresso beans.
I suppose if you try the coffee and chocolate-covered coffee beans and cheesecake all at once you might have some approximation of the addled, go-go-go New York state of mind.
The baskets, which launched today, include other great food cities like Chicago (with items like Chicago beef franks), San Francisco (seafood rub and sourdough) and Austin (barbecue sauce and queso, natch).
Even better, 20% of the profits from these baskets goes to food pantries in their respective cities, like the Food Bank for New York City.