20 Travel Hacks to Save You Time and Money
Make the most of your road trip or flight.
Long airport security lines can play havoc with your travel plans. So can dead phone batteries, high gas prices, lost luggage and kids who fight in the back seat. Not every road trip or flight can go smoothly, but a few smart travel hacks can help you avoid the potholes.
Hacks To Use When You Go by Air
1: Passengers have been fuming about delays at security checkpoints. While TSA officials try to speed things up, sign up for TSA PreCheck, an expedited program for travelers who are considered low-risk. If your airline offers it, apply for a KTN, or "known traveler number" to use when you book your flight. Once you're approved, you can take the shorter, faster screening lines, and you won't have to take off your shoes, belt or light jacket. You won't have to open your laptop or 3-1-1 liquids, either.
2: Seasoned travelers know they can make money by volunteering to be bumped from overbooked flights. Of course, you'd better have a flexible schedule, because you may have to stand-by for the next one, and there's always a chance you'll get stranded. But if this is an option, try asking for cash or accept a voucher (read it carefully, as it will probably have restrictions) or extra frequent flier miles. And don't forget about your luggage. If you checked it, ask where it will be held until you arrive.
3: Imagine this: you're ready to board your flight when the gate agent announces it's been cancelled. Worse, bad weather is causing cancellations all over the board. You race to the ticket counter to rebook, only to find a two-hour line has already formed ahead of you. You could call your airline to grab a seat on another flight--if your battery wasn't dead. If you didn't tuck a charging cord and spare battery in a carry-on bag, expect to pay big bucks to buy them from an airport vendor. Critical advice: don't pack your cords and chargers in checked bags.
4: Before you leave home, download your airline's app. Most will give you real-time info on gate assignments, arrivals and delays. They can also display your boarding pass, so you don't have to keep up with a paper one.
5: When you're traveling outside the U.S., use Skype or Google Hangouts to make free calls. If both parties are using WiFi, you can also talk to someone on FaceTime without paying roaming or long distance charges (although there may be a few countries where FaceTime is banned or it simply won't work).
6: As a backup, scan important documents like your passport, itinerary and driver's license before you journey out, and email them to yourself. They'll be invaluable if your originals are lost or stolen.
7: Keep an empty water bottle in your carry-on bag, backpack or purse, and fill it after you pass through security. You'd be surprised at how much money you'll save; bottled water from airport vendors isn't cheap.
8: Call your credit card companies and tell them when you've going to a new or seldom-visited destination. If they see unexpected activity on your account, they're likely to freeze it while you're trying to book a room or pay for a meal in outer Tasmania.
9: Don't forget to compare ticket prices from airlines in the same general area. Flying in or out of JFK, for example, may be more expensive than LaGuardia, or there could be a special to and from Miami rather than Fort Lauderdale.
10: Before you book a flight online, clear your history, cache and cookies. This may help you get a cheaper fare, since some airlines track your searches and increase prices when they perceive a flight is in demand. It's also a good idea to compare prices from travel sites like Kayak with prices quoted directly by the airlines.
Travel Hacks for Road Trips
1: Driving a long distance with kids? Chances are you'll need a few bathroom breaks. Download SitOrSquat, from Charmin, to find the cleanest pit stops along your route.
2: Don't pay too much for gas. GasBuddy can tell you where to find the lowest gas prices around, and even calculate the cost of your trip before you head out on the highway.
3: If you're traveling with someone else, or you plan to use more than one mobile gadget, bring along a USB car charger with at least two ports.
4: Keep the little ones entertained by hanging a shoe organizer over the back of your seat. Fill the pockets with small toys, healthy snacks, juice boxes, travel-sized games or other fun things to keep them busy.
5: If you're not on a tight schedule, use Field Trip to find interesting places to visit along the way. It's a fun and easy way to discover new attractions and destinations.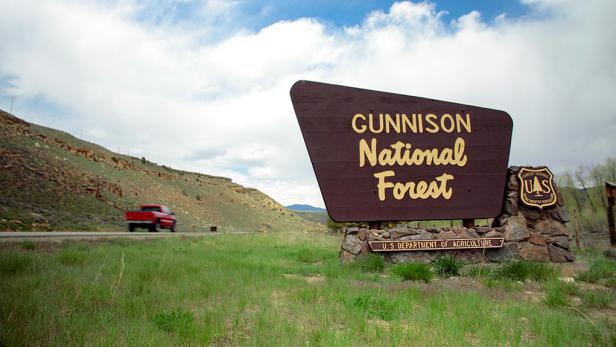 Gunnison National Forest
While on his way to Almont Resort in Colorado, Shane passes by the entrance sign of Gunnison National Forest.
6: Stay on course with Google Maps, which provides turn-by-turn directions for Android or iOS users. This GPS-based navigation system also alerts you to delays due to traffic, construction or accidents, and helps you navigate around them.
7: Another navigation system, Waze, is community-based, which means that it uses info provided by other drivers in your area to tell you about real-time accidents, traffic delays, stalled cars and more.
8: Wondering where to find the next gas station, hotel or restaurant? Use the iExit app to see what's coming up at the next exit, and how far you'll have to detour from your current route.
9: If you need a late-night stop to grab a bite to eat or stretch your legs, and you're not sure what's open, look for a truck stop. Most are open all night, and they're typically clean, well lit and stocked with a great variety of snacks, beverages and other items. Their bathrooms are usually nice and clean, too.
10: Don't forget to put an emergency kit in your vehicle. Stash basic first-aid supplies and items you'll need if you break down, such as a flashlight and spare batteries, jumper cables, foam tire sealant, a tire gauge, some non-perishable snacks, a blanket, drinking water, an ice scraper for the windshield, and a rain poncho or two.
Don't let thieves ruin your trip. Outsmart them with trendy, anti-theft travel gear.