Travel Channel Editors Share What's on Their Bucket Lists
See where we're heading next.
Our Travel Channel digital team editors are constantly researching, producing and programming travel-related content, which means our travel bucket lists are constantly growing. Our editors have traveled to varying degrees. Some are just getting started crossing off destinations from their travel bucket lists and some have traveled to almost all seven continents. One editor has even been known to hop on a plane to Tokyo just for a weekend. Check out what destinations we have at the top of our bucket lists.
"For the past four years, I've said that I'll visit South America, but I always end up traveling to Europe, Asia, Africa and Oceania instead. This year (cue the broken record) I'll visit South America to camp and explore Patagonia and sip wine in Argentina. Since it's in the southern hemisphere with opposite seasons, visiting during winter will mean going during their summer." – Arthur Hsu, Producer
"I've always wanted to visit Ireland. I just have a thing for all things Irish — bright green landscapes, four-leaf clovers, foggy mornings, string instruments, whiskey. Part of that comes from my ancestry, which has deep Irish roots, and also from the connection to my home in the southern Appalachians, a local culture permeated with Irish influence. I don't have plans on the books right now but I know I'll get there soon." – Kelly Smith Trimble, Executive Editor
"Lyon, France, has been on my travel bucket list for a few years now. Not only is the city an affordable alternative to Paris, Lyon boasts historic architecture and fine dining options that rival the capital city. A perfect day for me would include biking along the Rhone river, sampling wine from the nearby Beaujolais region and dining at Paul Bocuse's famous restaurant." – Ryan Reed, Editor
"My travel bucket list is extensive. I'll admit, I'm a little greedy. My whole family is obsessed with Japanese food, film and culture in general so at the top of my list is a trip to Japan, hopefully before my son graduates from high school.
But I will check a major destination off of my long bucket list when I return to Athens, Greece this spring. In high school, I lived in Athens for almost three years when my father was an Army officer working with the Greek military. I can't imagine a better life experience, especially for a teenager; attending the American Community School with kids from around the world, school field trips to Crete, and traveling with my debate team to a conference in Thessaloniki. In March I'm taking my travel-obsessed teenage son, who is about the same age I was when I traveled to Greece for the first time. I hope he loves it as much as I did." – Felicia Feaster, Managing Editor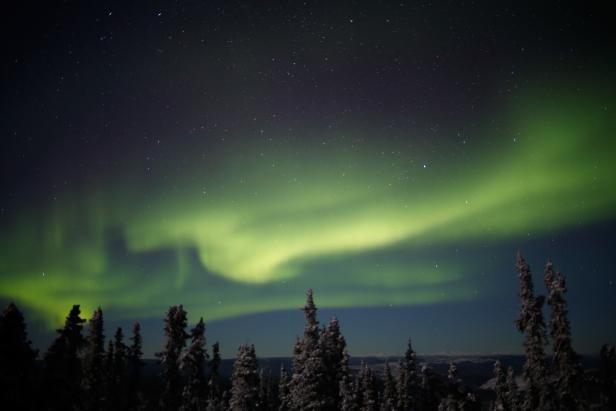 [UNVERIFIED CONTENT] FAIRBANKS, AK - FEBRUARY 19: The green lights of an aurora borealis (the "northern lights") is visible on February 19, 2013 near Cleary Summit just north of Fairbanks, Alaska. The Aurora forecast of the Geophysical Institute of the University of Alaska had classified this night as a 1 on a scale of 0 to 9 ("quiet").
"I really, really want to go see the Northern Lights. I don't care where (I've been told Alaska and Iceland are both good places), but I want to really do it up, and stay in a big cabin or one of those crazy ice yurts.
This year I'm actually completing a bucket list item: I'm going to Seattle! I haven't been back to Seattle since I moved to the South when I was 13. I'm going to a concert and the Skagit Valley Tulip Festival." – Jessica Yonker, Online Editor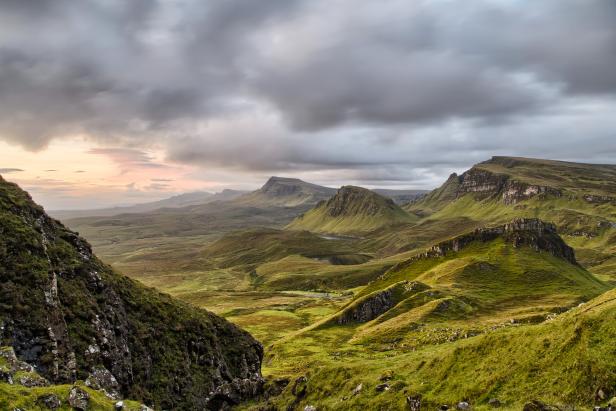 463476509
The Quiraing is a landslip on the eastern face of Meall na Suiramach, the northernmost summit of the Trotternish Ridge on the Isle of Skye. The whole of the Trotternish Ridge escarpment was formed by a great series of landslips; the Quiraing is the only part of the slip still moving, the road at its base near Flodigarry requires repairs each yearQuiraing (in Gaelic, Cuith-Raing) comes from Old Norse Kvi Rand, which means Round Fold. Within the fold is The Table, an elevated plateau hidden amongst the pillars. It is said that the fold was used to conceal cattle from Viking raiders.
"Scotland is high on my travel bucket list because my ancestors on my mother's side are from Scotland, so I'd love to trace where our clan lived and bring back something in our tartan pattern as a souvenir. I also want to hike in the gorgeous landscape of the Highlands, visit the many majestic castles and explore the charming streets of Edinburgh." – Laura James, Assistant Editor
"Easter Island is on my bucket list because those statues – like 900 of them – have got to be the coolest thing ever. Plus, the beaches look really nice." – Jackie McGilvray, Editor
See More of Our Editors' Bucket List Spots
Working on the Travel Channel digital team is a sure way to constantly have the next dream destination in mind. Here are the places our editors have at the top of their bucket lists.