Celebrate Earth Day at Disney's Animal Kingdom
Get your conservation on with animal experts and learn about unique species that call this planet home at Walt Disney World.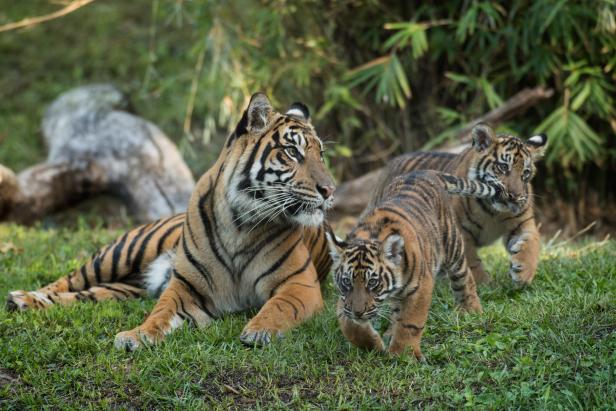 Young Tigers at Disney's Animal Kingdom
Starting this week, guests at Disney's Animal Kingdom in Lake Buena Vista, Fla. may get a glimpse of Anala and Jeda, the first Sumatran tiger cubs to be born at the park located at Walt Disney World Resort. The nearly four-month-old cubs are slowly being introduced into their habitat on Maharajah Jungle Trek. The sister and brother pair will be visible periodically as they acclimate to their new area.
When you think about Disney World, you probably think of the castle, the mouse and tons of churros. But part of Disney's DNA (and a passion Walt Disney had himself) is wildlife conservation. To date, the Disney Conservation Fund has directed more than $70 million to reverse the decline of wildlife and endangered species. That's also a major theme at Animal Kingdom, which is home to nearly 2,000 animals. The park even opened on Earth Day in 1998. This year, Animal Kingdom will celebrate its 20th anniversary and Walt Disney World is celebrating with an educational "Party for the Planet" event from April 22 to May 5.
"Here at Animal Kingdom, families and kids have an opportunity to really experience nature in a special way—bringing stories to life and connecting them to what's important: the outdoors and animals," said the park vice president, Djuan Rivers. From new entertainment to exclusive, behind-the-scenes activities to an adorable baby hippo, here are all the can't-miss events at "Party for the Planet."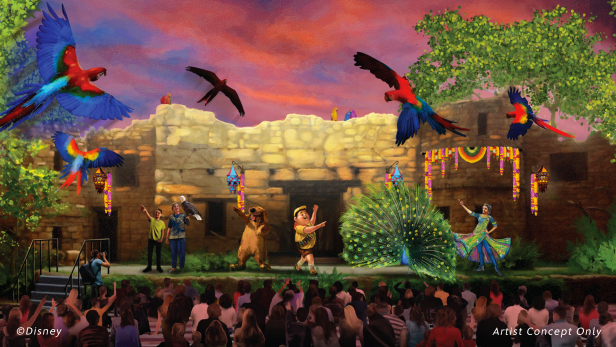 New Bird Show at Disney's Animal Kingdom
On Earth Day, April 22, 2018, Disney's Animal Kingdom at Walt Disney World Resort will debut "UP! A Great Bird Adventure," a brand-new show featuring Russell and Dug from the Disney•Pixar animated comedy adventure film "UP." The show will give guests the chance to see Senior Wilderness Explorer Russell and his fuzzy friend Dug in a new adventure that includes encounters with exotic birds from around the world.
Calling all UP fans! On Earth Day, Animal Kingdom will debut "UP! A Great Bird Adventure," featuring the beloved film characters Russell and Doug for the first time on stage. While we don't know if Kevin will make an appearance, the live show will feature exotic birds from around the world.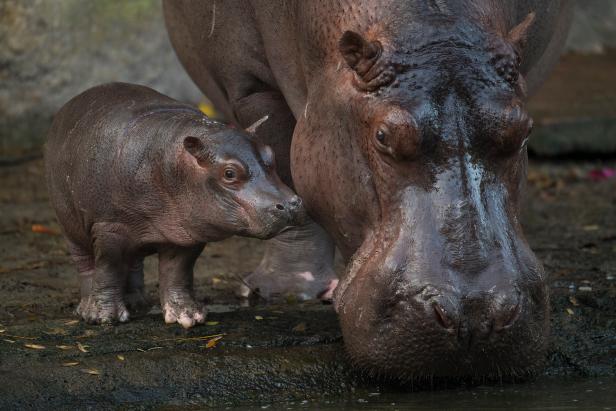 New Baby Hippo at Walt Disney World
Today, February 21, 2018, Walt Disney World Resort revealed news about a baby Nile hippopotamus born last month at Disney's Animal Kingdom in Lake Buena Vista, Fla. As part of a magical moment on Kilimanjaro Safaris, roughly a dozen guests were the first to learn the hippo calf is a boy and his name is Augustus. Weighing in at about 168 pounds, Augustus is the first hippo born at the park in 13 years. He is often seen staying close to his mom Tuma and is already winning over guests on Kilimanjaro Safaris and during the Wild Africa Trek experience at Disney's Animal Kingdom.
While on the Kilimanjaro Safaris ride, keep your eyes peeled for baby Augustus. The Nile hippo was born in February and was the first hippo born at Animal Kingdom in 13 years. The not-so-little baby boy already weighs more than most adult humans. You'll find him sticking very close to his mom, Tuma. But Augustas isn't the only baby in the park. Over at the Maharajah Jungle Trek, guests might get a glimpse of tiger toddlers Anala and Jeda. The pair are the first Sumatran tigers to be born in the park and these cubs are very important as Sumatran tigers are one of most critically endangered species on the planet.
Want to learn more about the animals that call Animal Kingdom home? Tiffins, the park's signature restaurant, will host six different "Tiffin Talks" with research scientists and animal conservation experts. These themed, four-course dinners will focus on endangered animals from the Purple Martin songbird to the park's gorillas.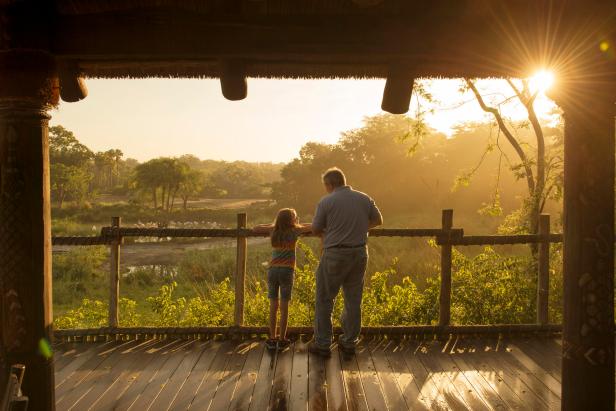 Adventure on the Wild Side at Disney's Animal Kingdom
Guests look out over a wildlife-filled savanna on Wild Africa Trek, where adventure comes alive in an exciting experience at Disney's Animal Kingdom. The add-on offering invites intrepid explorers to up-close encounters with the park's wildlife. As part of their expert-led adventure, guests take safari vehicles to a serene overlook where they can savor Africa-inspired food and beverage while observing giraffes, elephants, gazelle and more.
Rafiki's Planet Watch is always a must-do at Animal Kingdom. The educational exhibits promote awareness for wildlife issues in an interactive way that even the little ones will understand. During "Party for the Planet," the attraction will offer behind the scenes experiences with Disney animal ambassadors including a visit to Animal Kingdom's veterinary hospital. Another behind-the-scenes encounter that should be on everyone's Disney bucket list is the Wild Africa Trek. Guests will learn about endangered species and the park's dedication to conservation on the three-hour, private expedition through Animal Kingdom's Safi River Valley. This event is an add-on experience not included in regular park admission and must be reserved in advance.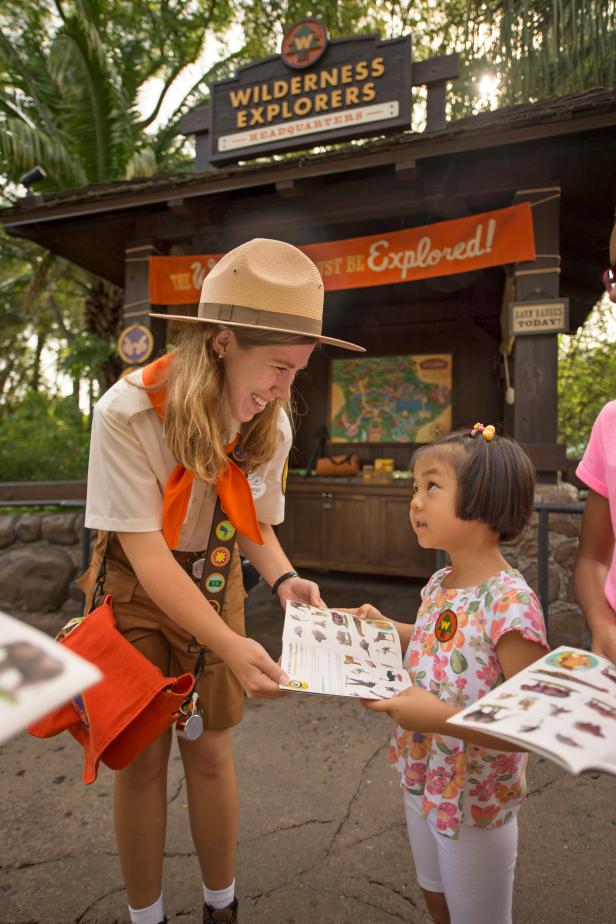 Wilderness Explorers Opens at Disney's Animal Kingdom
Disney's Animal Kingdom guests become Wilderness Explorers in an all-new self-guided experience aimed at deepening their understanding of animals and the natural world we live in. Inspired by Russell, the wilderness explorer in the Disney-Pixar film "Up," park guests can earn approximately 30 sticker badges in adventures exploring the theme park, completing various activities and solving puzzles along the way. Topics include everything from studying the animal inhabitants of the park to learning animal nutrition to combing through a dig site and identifying fossils. Headquartered on Oasis Bridge, Wilderness Explorers is included in Disney's Animal Kingdom admission.
Animal Kingdom's Wilderness Explorer program was designed for kids but it's become incredibly popular with adults, too. The scavenger hunt-style adventure brings the fictional scout program from UP to life and kids can collect wildlife and nature badges just like Russell. The badge booklet makes a great (and free!) souvenir. And guests who visit during "Party for the Planet" can earn a special, limited-edition badge.
"Party for the Planet is such a great time to be able to share some of our conservation work with our guests," said Disney Conservation Director Dr. Anne Savage. That work includes the "Reverse the Decline" program, an initiative created to help protect 10 threatened animal species. Guests can learn about these animals by stepping into giant Disney Conservation Fund photo frames throughout the park. Want to do more? You can give back while shopping with special merchandise that benefits the fund. And guests can also donate to the fund at select stores and food stations throughout the park. Starting April 22, guests will receive a special button featuring new artwork of the park's Sumatran tiger cubs as a thank you for their donation.
If you can't make it to Disney World this spring, don't worry. There's tons of wildlife and nature adventures coming to Animal Kingdom this summer such as Donald's Dino-bash where Donald Duck learns that, as a bird, he's actually a descendant of dinosaurs. The prehistoric party premieres Memorial Day in Dinoland, USA.