Strategic Tips for Walt Disney World's Magic Kingdom
Skip the lines and plan a stress-free vacation with these helpful suggestions.
I recently traveled to Orlando, Fla., to visit Walt Disney World's Magic Kingdom Park for the first time as an adult. Believe it or not, I had more fun as a 32-year-old than I did when I first met Mickey Mouse as a small child.
The new rides and attractions helped increase the fun factor, but my wife and I were able to find ways to breeze through the lines and make the most of our few days at the Magic Kingdom. As we bounced around the park checking off all our favorite spots on the map, we looked around and noticed people waiting in long lines while we walked past them in the FastPass+ line. How could that be?
That's what inspired this article. Disney World is a magical place for the young and young at heart, so I want to share my simple tips so your vacation is one filled with creating lifelong family memories.
Make the most of Thanksgiving break. Let gourmet chefs worry about the turkey, skip Black Friday madness and head to these theme parks for extra family fun.
Plan FastPass+ Strategy Early
FastPass+ might be the greatest invention since the roller coaster. The service, which is included in the price of your ticket, allows you to reserve access to select attractions throughout Disney World. Once you purchase your ticket to the park, I recommend setting up a free account via the My Disney Experience app and add your travel companions to the Family & Friends List. The MagicBand is an additional purchase if you're not staying at a Disney Resort hotel but I recommend it. It's a cool wristband with Disney characters on it, and once you link it to your account, you simply scan it at the gate to gain access to the shorter FastPass+ lines.
Once your account is set up and your MagicBand is on its way, you'll want to start picking out your favorite rides as soon as possible via the app. For those staying at a Disney Resort hotel, you can start reserving attractions 60 days before you arrive. Everyone else can start reserving 30 days in advance. Here's the trick, though: Don't wait until the night before you head to the park to start picking out rides, as there will likely not be any availability.
You can select up to three attractions at once using FastPass+, and I suggest trying to schedule them early in the day and as close together as possible. Once you use up your three initial choices, you can reserve additional rides via the My Disney Experience app, which leads to my next tip…
Spend more time with your family and friends and less time waiting in line with these suggestions.
Don't Worry if Your Ride Isn't Available on FastPass+
If you started planning 30 or 60 days in advance but your favorite ride still isn't available via FastPast+ — don't fret. Go ahead and still make your three initial picks. After you scan your wristband to use the last of your initial three FastPass+ reservations, immediately open the My Disney Experience app as you work your way through the line to see what is available. There is a very good chance that the ride or attraction you really want to experience is available.
Even if that ride isn't available, scroll through and pick another attraction you want to go on instead at a time that falls right after you expect to be finished at the attraction you're currently visiting. The key is to line up your FastPass+ reservations so that you can go from one to the next and never have to wait in the regular lines that can sometimes stretch around the attraction itself.
Hopefully, as the day goes on, one or two rides that you have your heart set on will be available and you'll be able to grab a FastPass+ for it. If for some reason your favorite Magic Kingdom ride never becomes available through the app, there is one more way to skip to the front of the line…
Happily Ever After Strategy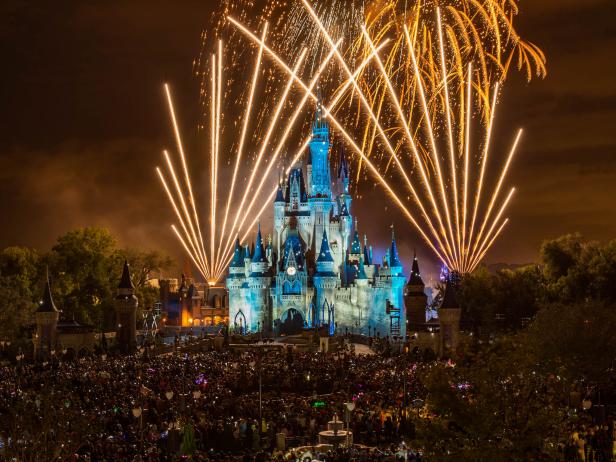 Holiday Wishes: Celebrate the Spirit of the Season
Mickey's Very Merry Christmas Party gives Walt Disney World Resort guests the chance to experience special holiday festivities, including the spectacular fireworks extravaganza, "Holiday Wishes: Celebrate the Spirit of the Season." This enchanting after-hours party also includes lively stage shows, a unique holiday parade, Disney characters in their holiday attire and snow flurries on Main Street, U.S.A. The special-ticket event takes place on select nights in November and December at Magic Kingdom in Lake Buena Vista, Fla. (Disney)
Photo Courtesy of Walt Disney World
The Happily Ever After fireworks show at the Magic Kingdom is a spectacular display that captures the imagination of children and grown-ups alike. Everyone in the park will start to head towards the Cinderella Castle as the sun begins to set to get a good spot. You should do the same, except make sure you're strategic about where you set up camp.
You'll want to stand on Main Street, U.S.A so that you can take photos and be in the center of all the action, but I would recommend avoiding that area at all cost. It is very crowded and the likelihood of you taking a good photo of the fireworks with your smartphone is extremely low. More importantly, though, it will take forever to make your way to your next ride once the fireworks are over.
Instead, stand on the edge of the crowd so that you can still see the fireworks, but make a quick exit right after. This is an opportune time to head to that attraction you really want to experience if FastPass+ wasn't an option. It also keeps you in the park while many others tend to leave right after. The last place you want to be is stuck with thousands of people waiting for the next monorail or boat.
If you're visiting during the summer months, expect a pop-up shower pretty much daily. This is central Florida after all. Bring a poncho with you unless an overpriced Disney poncho is the souvenir of your dreams. You should also wear proper footwear. Things can get slick around the park, so I would opt for tennis shoes over sandals or flip-flops.
In addition to rain gear, you want to think of ways to keep the fun going when things get wet, especially if you're with kids. Waiting out the rain can work in your favor, as many will leave the park. Instead of calling it a day, head to an attraction like the Country Bear Jamboree or another indoor show or ride while you wait until the rain stops. Or, if you've worked up an appetite while bouncing around from ride to ride, head indoors while it's raining and grab something to eat to fuel the rest of the day's fun.
Car-Share Out of Magic Kingdom
When all the fun has been had and you're ready to call it a day, head towards the exit and you'll see signs for various transportation methods along with a sea of people lining up to board the next monorail, boat or bus. These are the official ways out of Magic Kingdom, but I was able to avoid the queue and make it back to my hotel in record time. Here's how:
Take a slight detour out of Magic Kingdom and walk towards Disney's Contemporary Resort, which is less than a half mile away. Get close enough to the resort without going into the parking lot and use your favorite car-sharing service to schedule a pickup. Make sure you're standing in a place that's easy for them to pull over and keep an eye out so that you can flag them down when they get close to your location. During peak times this trick may not work, but it's certainly worth a try.