10 Awesome Freebies at Walt Disney World
Save money with these hidden gems.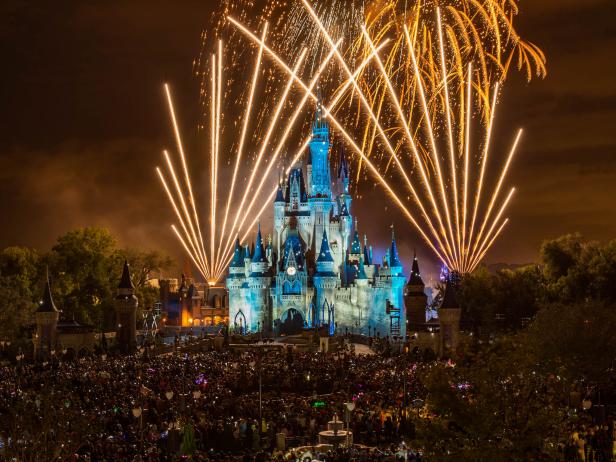 Holiday Wishes: Celebrate the Spirit of the Season
Mickey's Very Merry Christmas Party gives Walt Disney World Resort guests the chance to experience special holiday festivities, including the spectacular fireworks extravaganza, "Holiday Wishes: Celebrate the Spirit of the Season." This enchanting after-hours party also includes lively stage shows, a unique holiday parade, Disney characters in their holiday attire and snow flurries on Main Street, U.S.A. The special-ticket event takes place on select nights in November and December at Magic Kingdom in Lake Buena Vista, Fla. (Disney)
Photo Courtesy of Walt Disney World
The most magical place on earth doesn't come cheap. After buying flights, tickets and making hotel reservations, give your wallet a break with these fun freebies, from food samples to cool souvenirs to activities the kids will love.
Wait in line for Tinkerbell at the Magic Kingdom's Town Square Theater and you'll be transported to Pixie Hollow where you can get doused in magical pixie dust. (It's hair glitter.) You can also find cast members with free pixie dust at the Castle Couture shop in Fantasyland. Fair Warning: It takes a couple of showers to wash all the magic out of your hair.
In the Adventureland area of Magic Kingdom, just outside the Pirates of the Caribbean ride, you can embark on an interactive treasure hunt with really beautiful maps that make great souvenirs, even for teens.
Most people whiz past this attraction on the way to popular Epcot park rides, but they're missing a major freebie. Club Cool lets you cool off and sample soda from all around the world. Make sure to visit this spot during the hottest part of the day for a sweet break.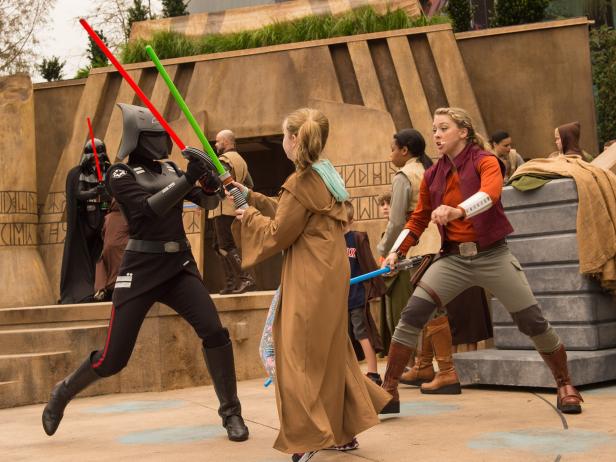 Jedi Training: Trials of the Temple
Younglings brave enough to sign up for Jedi Training: Trials of the Temple are guided to the site of a secret and ancient Jedi temple. There, they learn how to use special training lightsabers to face villains such as Darth Vader and the Seventh Sister Inquisitor from the popular Disney XD series Star Wars Rebels, and discover if they have the makings of a true Jedi. (David Roark, photographer)
Jedi Training Certificate
Have some Star Wars fans in your family? Hollywood Studios offers a Jedi training certificate program. Kids between 4-12 years old can sign up to train under a Jedi Knight and master the force before taking on the dark side and wielding a lightsaber in a show for parents. The certificate kids get after completing the class is a great souvenir. There's no FastPass+ for this attraction and sign up is on a first come, first served basis so get to the park early and make a beeline for the registration outpost.
Don't fall victim to the $5 bottle of water. Most restaurants and quick-service kiosks will give you a large cup of ice water or just a cup of ice if you ask for it.
Learn how to draw popular Disney characters in a free art class at The Art of Animation Resort. You get to take home a drawing for free and sometimes the instructor gives out his or her drawing--which probably looks a lot better.
Wilderness Explorer Badges
If your kids love the movie Up, they'll love this scavenger-style adventure throughout Animal Kingdom. Collect badges just like Russell and learn about all of the animals in the park. The booklet makes a great souvenir.
The Polynesian Resort gives out leis not just to guests but anyone who visits the lobby. Just ask. This freebie is popular with bachelorette party groups. And the leis are made with fake flowers so they're great souvenirs.
So many people come to Walt Disney World to celebrate special occasions, they started giving out buttons for it. There are buttons for birthdays, anniversaries, honeymoons and the list goes on. Tell a cast member what you're celebrating when you book your vacation and you'll get a sweet button when you check in.
One of the coolest pieces of Disney parks culture is pin trading. You can trade with any cast member once a day at any Disney park. It's a great way to trade for vintage or rare Disney pins that make for a memorable souvenir.
More Disney Tips and Tricks