Fort Lauderdale on a Budget
A South Florida beach getaway doesn't have to cost a bundle.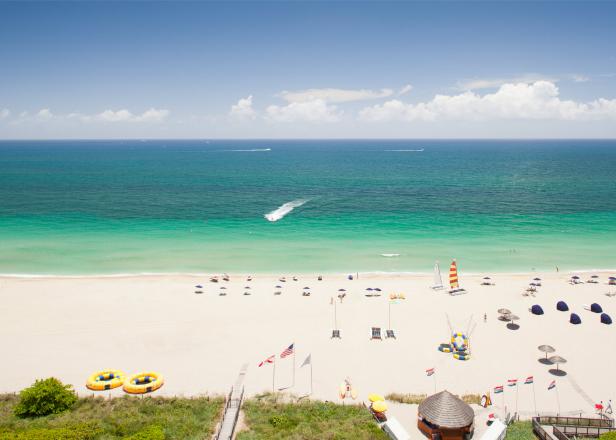 Secluded Snorkeling
Dive into the Atlantic and explore South Florida's marine life at Fort Lauderdale Marriott Harbor Beach Resort. An oceanfront oasis, the property is set on 16 acres amid the region's largest private beach, offering an exclusive and secluded area for snorkeling where guests can encounter fish and sea turtles in their natural habitat.
Fort Lauderdale Marriott Harbor Beach Resort & Spa
Most people who come to South Florida plan to make a big dent in their wallet during their stay. That doesn't have to be the case. Even though Fort Lauderdale replaced many old-time beach motels with fancy high rises, there are still a variety of places you can visit without paying a lot. A budget-conscious vacation that combines sun-drenched sands and urban style is well within your wallet's reach with a little advance planning.
Plan your trip around one city and skip the rental car. If you're hitting another destination besides Fort Lauderdale, get the car when it comes time to travel to the next destination.
South Florida is always a popular retreat destination any time of the year. But, if you're trying to score the biggest bargains, June through August is the best time to go. If hot weather doesn't bother you, plan your trip for the summer months when all the snowbirds have left. Keep in mind, hurricane season starts in June and lasts all the way through November, so watch the weather reports.
The key to keeping within your budget is to stay a few blocks away from the city's main beach. You want to be close enough to walk to the beach and all the restaurants, but far enough to save your bank account from crying. These hotel lodges feature apartment-style rooms so you can eat in and save money on dining out. A five-minute walk from Lauderdale Beach, the Tropi Rock Resort's colorful decor and heated outdoor pool make vacationing on a budget stress-free. The Tranquilo Hotel offers recently remodeled amenities in an intimate beachy, tranquil setting. Tucked away in a quiet neighborhood, Tranquilo is just minutes away from shopping plazas and restaurants.
The Fortuna Hotel is a short walk to the Fort Lauderdale Beach, and it features newly-renovated rooms in a classic art deco setting. Hotel Deauville offers private and shared rooms at great prices and features a relaxing property for all travelers. But, when in doubt, head over to the Airbnb website in Fort Lauderdale to find great deals on beautiful loft-style apartments and homes.
With all the restaurants offered in Lauderdale, it can be a tad overwhelming — and overpriced. That's why Parrot Lounge is always a go-to for locals and tourists. You can munch on their tasty pub grub while enjoying their famous cocktails. If you're in the mood for authentic Mediterranean, head over to Greek Islands Taverna. Start with their herb-stuffed grape leaves and a gyro on the side then finish it off with char-broiled lamb chops. If you want a real taste of Trinidad, head over to Joy's Roti Delight, where you can dine on curry made with a selection of meats and a side of rice and roti.
Noor Bakery and Deli is celebrating 10 years of filling the bellies of South Floridians, and it's the place to go for authentic Lebanese cuisine. Be sure to try the traditional zaatar flatbread, along with a beef shawarma wrap. September is restaurant month in Fort Lauderdale, featuring about 50 gourmet-style restaurants offering discounted rates for the whole month; check out Crave for the details.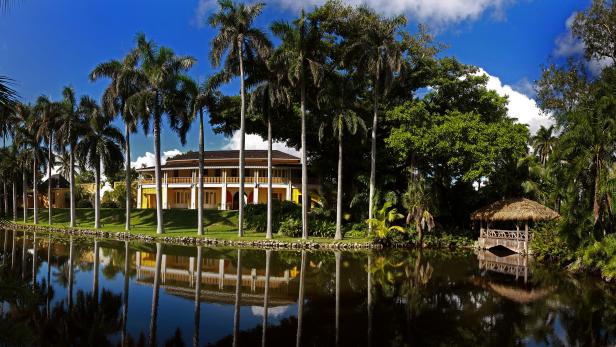 Bonnet House Museum and Gardens in Miami, Florida
If you're into art and gardens, make sure to visit the Bonnet House Museum and Gardens, a historic house built in 1920 that is now a museum. Travelers can purchase a ticket to tour the house and the plush gardens, and can also purchase a ticket to only see the gardens for just half the price.
David Warren/Bonnet House
Fortunately, there's no charge for sunbathing, but if you want a break from the beach and don't have a rental car, there are inexpensive sightseeing options. Take a water taxi in canal-filled Fort Lauderdale, aka the "Venice of America." The 15-stop route does double-duty as an aquatic tour and a shuttle to local attractions between East Oakland Park Boulevard and the 17th Street Causeway. During high season, the company also operates day cruises to Miami Beach. Show your water taxi ticket for discounts on restaurants, bars, shops and museums.
If you're into art and gardens, make sure to visit the Bonnet House Museum and Gardens, a historic house built in 1920 that is now a museum. Travelers can purchase a tour of the house and lush gardens, or they can see only the gardens for half the price. Craving more art? Take a stroll to the Downtown Hollywood Mural Project, a collection of outdoor murals by local and international artists. Riverwalk Activities offers some of the best prices on water sports including canoeing, kayaking and paddleboarding. They also offer tours and bikes for rent. For fashion and art enthusiasts, Las Olas Boulevard is the place to go. Stroll through the various art galleries, local shops and boutiques.
For more savings, visit the Greater Fort Lauderdale website to find deals and more happenings in Lauderdale.