Vacationing in Miami doesn't always have to make your bank account cry.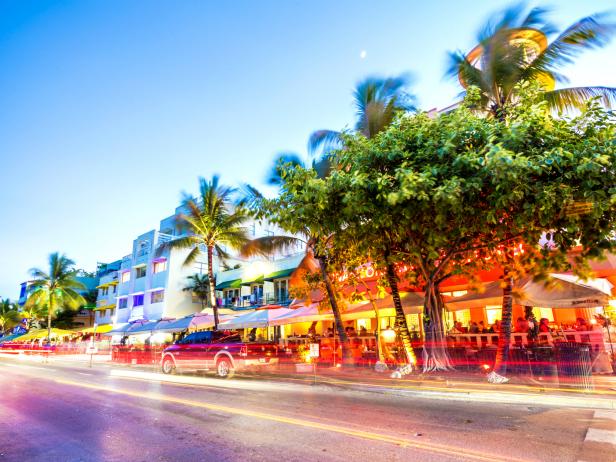 sexy slipways, beaches, resorts, romance, setai towers, miami, florida
Packed with runway-ready locals, glamorous nightclubs, spectacular warm weather and picture-perfect beaches, there's something inherently sexy about Miami's South Beach. The ultimate getaway for nightlife lovers is its Ocean Drive strip of restaurants and clubs, and there are plenty of swanky places to sleep in late after a night on the town.
Pola Damonte / Getty Images
Miami Beach has been a prime vacation destination for years. Many celebrities, athletes and musicians reside in the city, and the beaches and world-famous bars attract tourists from all over the world. You would think this makes a vacation there really costly, right? Not necessarily. There are many ways you can vacation to the sunny beaches of Miami without spending a fortune.
South Florida is always a popular retreat destination any time of the year. But, if you're trying to score the biggest bargains, June through August is the best time to go. If hot weather doesn't bother you, plan your trip in the summer months when all the snowbirds have left the warm state. Keep in mind, hurricane season starts in June and lasts all the way through November, so watch the weather report!
Hotel hunting in Miami beach can be quite overwhelming and costly. The trick to finding a nice hotel while staying in your budget is to look about 10 blocks north of Lincoln Road. Freehand Hotel, also known as Indian Creek, offers unique art deco architecture and decor, and it sits just one block from the beach. Get a reasonably priced famous cocktail from the hotel bar, the Broken Shaker Bar.
A great place to look for hotels is in the Art Deco District. The Starlite Hotel has 50 renovated art deco-style rooms and is just steps away from the beach. Right across from the beach sits Ocean Surf Hotel, with convenient access to the heart of Miami Beach's nightlife, shopping and restaurants. Nestled right on Collins Avenue, the Posh Hostel offers modern shared rooms, a rooftop pool and numerous up-to-date amenities. Many people also turn to Airbnb for affordable, beautiful loft-style apartments and homes. Visit the Miami Airbnb website for good deals.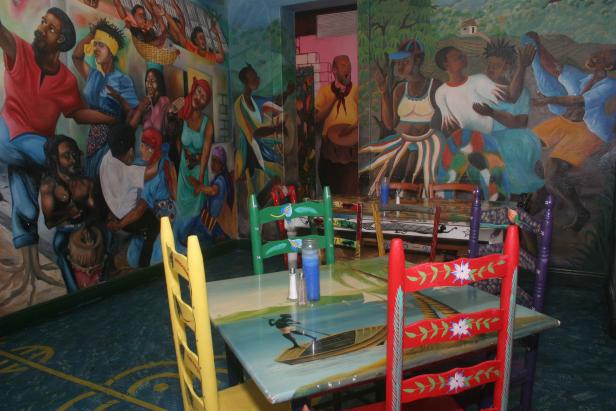 Tap Tap Restaurant in Miami, Florida
If you're in Miami, Tap Tap Restaurant is a must try. Have you ever tried real, authentic Haitian food? Tap Tap is your place to go, offering a range of traditional Haitian dishes, where you should definitely try the gryo, a traditional Haitian pork dish, and the yellowtail snapper doused in lime sauces.
Hopefully, you brought a large appetite for Cuban food, because Miami is known for having the best Cuban restaurants. Your first stop should be Puerto Sagua, which offers authentic Cuban dishes and is located near the heart of Miami Beach. Make sure to try the pernil asado, the tastiest pork dish you'll indulge in. If you're craving a decadent French sandwich, head over to La Sandwicherie, where you'll always find a long line of people lingering outside (it's worth the wait). In the mood for Mexican? Have a bite at Lime Fresh Mexican Grill, where you can grab some fresh tacos with a cold beer.
Looking for real, authentic Haitian food? Tap Tap is the place to go for a wide range of traditional Haitian dishes. Definitely try the griyo, a traditional Haitian pork dish, and the yellowtail snapper doused in lime sauces. If you're craving a juicy falafel sandwich with creamy hummus on the side, check out Aladdin for authentic Middle Eastern cuisine. Have you ever tried a sushi burrito? Well, YuGo is the place to go for unique sushi dishes. They also have lots of vegan options, so there's something on the menu for everyone. If you're visiting Miami in August or September, don't miss out on the amazing deals Miami Spice offers; you can dine three-course meals for lunch and dinner at discounted prices. Check out their website for a list of participating restaurants.
To explore Miami's architectural history, take a self-guided audio tour with the Art Deco Welcome Center. Want to steer away from Miami Beach? Head over to Wynwood in Miami's design district. It's hard to miss, with the endless maze of walls submerged in vibrant colors and painted murals. There's always something new to see in Wynwood. Art walks and various events are held all year long, so be sure to check out what they've got going on when you're in town.
Miami's copious arts and culture scene will keep you busy with budget-friendly art galleries and museums, festivals and shows. The Big Bus Miami offers various tours to explore the city, and it's a great way to learn about Miami's vibrant history. Taking a stroll through the historic Lincoln Road is nothing short of remarkable. With local shops and some of the best bars and restaurants, there's somewhere to go for everyone who visits the pedestrian-friendly road. Pampering yourself doesn't have to come with a hefty price tag either. Miami hosts an annual spa month from July 1 to August 31. You can find huge savings for local spa packages.