Where to Take Advantage of National Park Free Days
Save money by skipping entry fees on these incredible parks.
This year, the National Park Service is offering five free admission days. One of those days has already passed, but there are still four more days to get in free at national parks this year.
National Park free days return this month when the park service celebrates National Park Week on April 20. In previous years, Americans got two full weekends of free parks to commemorate the event, but now you can still catch festivities like free museum openings, night sky tours and junior ranger programs this year.
Free days return on Aug. 25 for National Park Service Birthday, Sept. 28 for National Public Lands Day and Nov. 11 for Veteran's Day. And with limited free time to explore this year, you'll want to make the most of each one. Consider skipping the entrance fees at these great parks this year.
Utah's world-famous five-pack of national parks are some of the most visited in the nation for a reason. Of the 60 major national parks in America, these five offer some of the most dramatic landscapes on the continent, and quick access from Salt Lake City and Las Vegas.
Admission to Bryce Canyon and Zion National Parks will usually run thrill-seekers $30 per vehicle, while Grand Staircase Escalante, Arches, and Canyonlands (pictured) cost $25 each. Many of these parks are embroiled in a proposed increase to entry fees that could skyrocket those rates to $70 per vehicle, so get going while the getting's good.
Pick your poison for a Utah day hike at Angel's Landing, the Devil's Garden, Druid Arch, the Navajo Loop Trail or Zebra Slot Canyon for a free day you won't forget.
Mount Rainier National Park
Less than two hours from Seattle, Mount Rainier National Park centers around the 14,410-foot volcano that looms over the city's skyline. Rainier's slopes harbor a smorgasbord of scenery, putting hikers, photographers and travelers up-close to waterfalls, glaciers and picturesque meadows.
Rainier is facing a rate increase from $25 to $70, but this year's free days will allow you to hike on or in the shadows of Emmons Glacier, gawk at Comet Falls and watch the sunset over a volcanic remnant at Little Tahoma Peak.
Arguably the most rugged national park on the east coast, Maine's most-visited park lies less than five hours from Boston. Free days give northeastern travelers a chance to hike Cadillac Mountain, explore Sand Beach and gawk at the power of Thunder Hole, while leaving some change in their pocket for a post-hike brew at the Atlantic Brewing Company in Bar Harbor.
If you've only got one day in Acadia, try braving a death-defying view of the sea on the Precipice Trail, soaking in a boulder-strewn beach at Otter Cliff, and a bike, run or paddle at Eagle Lake.
Death Valley National Park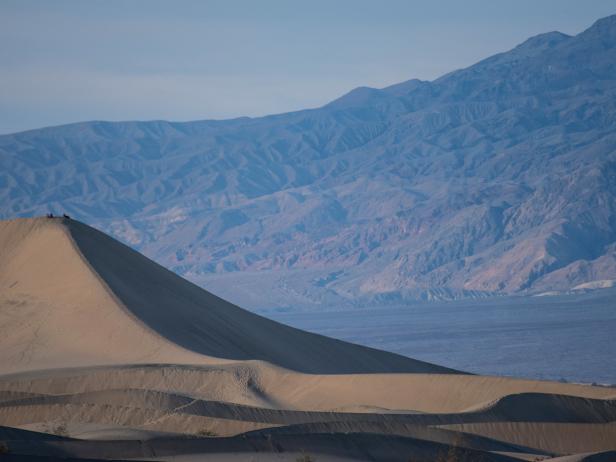 Death Valley National Park
With radiator-busting temperatures, tire-puncturing rocks and a spare supply of gasoline, Death Valley is few people's idea of a leisurely cruise. What the park is, however, is humbling. One hundred miles outside of Las Vegas, U.S. Highway 190 carries wary travelers under the shadow of the Funeral Mountains and into the heart of Death Valley. Here, the highway dances like an obsidian ribbon through the Martian landscape, making pit stops at Badwater Basin, the Mesquite Sand Dunes, Furnace Creek and Stovepipe Wells. Those who survive the westward journey will soon find themselves in the relative oasis of Lone Pine, Calif., near the base of the Lower 48's tallest peak, Mount Whitney.
Death Valley gives park visitors plenty of room to sprawl out less than two hours away from Las Vegas. The well-trodden path on Highway 190 through Furnace Creek will take drivers past the valley's iconic salt flats and sand dunes—including the lowest point in the U.S., at Badwater Basin. This route is an extremely popular destination for tourists; however, with more than 5,200 square miles of park to explore, Death Valley is also the perfect park to get away from free day crowds.
The Panamint Mountains tend to escape the scrutiny of large crowds, but serve up breathtaking sights like the charcoal kilns and Ubehebe Crater. Remote campsites in these areas are typically open in warm months, keeping you far from the fray at Furnace Creek.
Free days in April and November keep visitors away from the valley's most grueling summer months, and as a bonus, you'll skip the entry fee of $25 if you visit at one of those times.
True escapists should venture towards South Dakota's Badlands National Park on free day. The remote, desert-like park is a road trip destination from midwestern cities like Minneapolis, St. Louis and Chicago. However, even in peak season, its crowds pale in comparison to those in Utah, Arizona and California.
Here, crowds are lean, while hiking, camping and wildlife viewing is exceptional. Wilderness hiking and backcountry camping are permitted in the Badlands. The park's two designated campgrounds at Cedar Pass and Sage Creek are first-come, first-serve; but you just might find yourself camping near a heard of buffalo.
Regular entry to the Badlands is $20, but that's slated to rise a bit to $25 in 2019.
These national parks are all $10 or less to enter.
Dry Tortugas National Park - Florida
Channel Islands National Park - California
Craters of the Moon National Park - Idaho
Capitol Reef National Park - Utah
Mammoth Cave National Park - Kentucky
Redwood National Park - California
Great Basin National Park - Nevada
North Cascades National Park - Washington
Pinnacles National Park - California
Cuyahoga National Park - Ohio
Katmai National Park - Alaska
Editor's Note: On April 12, the White House decided to withdraw a proposal to raise the entry fees at 17 national parks to $70. Instead, rates will rise at all 117 National Park Service sites that already charge admission fees, but no more than $5 per site. This increase is expected to raise $60 million per year to help pay what the National Park Service says is a $11.6 billion backlog of repairs to facilities.