Got $50 and a Car? Take a Great American Road Trip
See our road-trip picks from five top cities.
It's a trip synonymous with an America founded on cars, endless highways and gorgeous scenery. The road trip: Maker of dreams, and a chance to connect with family, friends or your sweetheart on a ribbon of highway. Just hit the road and see where the day takes you. And thanks to a clever new site, figuring out where you can go without spending a load of cash is easy. Using HowMuch.net (and assuming we're driving a car that gets 24 miles a gallon), we picked some of our favorite cities and their go-to destinations to get you started planning a memorable getaway.
We Recommend: New Orleans, Louisiana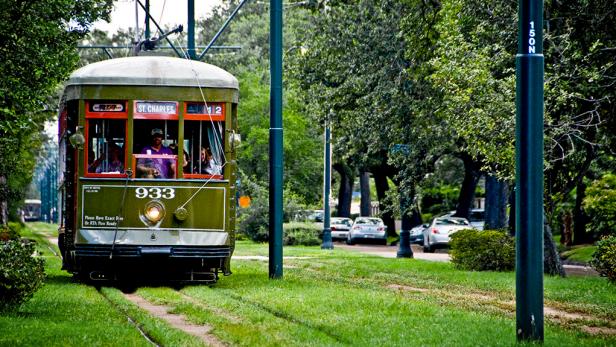 Things to do in New Orleans - St. Charles Streetcar
Hop aboard the historic St. Charles Avenue Streetcar, the oldest continuously operating street railway system in the world. Built in 1835, the line covers a 13-mile-long loop, running from Canal Street to Carondelet Avenue, with dozens of historic New Orleans mansions along the way.
For those of us who think we're living in the definitive sultry heart of Dixie, there's a reality check on the horizon: Nawlins. The end-all sexy, otherworldly Southern city, New Orleans has everything you need for a perfect stay, including remarkable food, gorgeous hotels like the Hotel Monteleone steeped in history (take a spin on the Carousel Bar and sip a brandy milk punch for us). The walkable layout lets you ditch the car and experience the eccentric, inspiring street life of this terminally fascinating city.
We Recommend: Zion National Park, Utah
One of the many pleasures of the City of Angels is its big-city sophistication within driving distance of some of the most epic, gorgeous wilderness imaginable. Take a night-and-day trip to experience two extremes of the human experience by traveling from the land of skyscrapers and traffic to the land of towering canyons and endless blue skies in Utah's high plateau country in Zion National Park. Don't fret: You won't sacrifice L.A.'s cult of fitness with the plentiful hiking options on offer in this 148,733 acre wonderland, sweetened by stunning natural beauty and hundreds of plant species not found anywhere else in Utah.
We Recommend: Charleston, South Carolina
What do power players in the ultimate company town need to recharge their batteries? An equally refined, but far more laid-back stroll through a classic Southern city with a burgeoning food scene and a dense city center very different from D.C's sprawl. In the heart of the city, star Southern chef Mike Lata's FIG is a must-sup foodie destination. You couldn't get closer to the action than the Belmond Charleston Place, an Old World elegant, centrally located place to lay your head.
We Recommend: Pittsburgh, Pennsylvania
"Pittsburgh?" you ask. "Pittsburgh!" we say. Like Tennessee's Chattanooga and Alabama's Birmingham, Pittsburgh once had a reputation as a grim industrial city ("Steel City" no less) but has remade itself as a vibrant phoenix, risen from the ashes. Wonderful cultural offerings, like a shrine to the world's most famous Pop artist, the Andy Warhol Museum, is reason enough to lure art-steeped Chicagoans to the city. But add in plenty of outdoorsy, adventure options close to the heart of the city, like popular hiking-destination Mount Washington, and you have a place with something for everyone.
We Recommend: Shenandoah National Park, Virginia
The Hamptons, Fire Island and Martha's Vineyard are Manhattan escape staples, but when you really, really want to get away, Virginia's Shenandoah National Park in the Blue Ridge Mountains will reset your citified pulse to "chill." The 105-mile Skyline Drive is a glorious drive for pavement-pounding fatigued New Yorkers who want to indulge in non-pedestrian vistas, and it is especially gorgeous in fall and spring. If you still want to hoof it, there are over 500 miles of hiking trails where you might spot bobcats, Eastern cottontail rabbits, whitetailed deer and even a black bear, a lovely break from dodging taxi cabs and street performers.
Don't see your city? Check out other cities on the HowMuch.net list, then browse our Destinations here, fill up your gas tank and plan your next great American road trip.