Honeymoon Planning Tips From Expert Tom Marchant
The most pressure-to-plan-trip of your life? Your honeymoon. Don't fret lovebirds, we've sought the advice of Black Tomato's Tom Marchant, an expert who knows how to plan epic honeymoons.
The most memorable trip of your life? Your honeymoon, of course. The most pressure-to-plan trip of your life? Your honeymoon, of course. Don't fret, lovebirds. We've sought the advice of a travel expert who knows how to plan epic honeymoons, including his own.

Black Tomato's co-founder Tom Marchant has scoured the globe looking for unforgettable honeymoon destinations for his bespoke luxury travel company. One of our Travel's Best Honeymoon advisors, Marchant gives us an inside look into today's honeymoon trends and tips for making your honeymoon the perfect start to your happily ever after.


How did Black Tomato get started? What kind of travel experiences does Black Tomato specialize in?
My business partners and I started Black Tomato in 2005. We all loved exploring lesser-known places and wanted to create a travel company that offered people something different. We realized that there wasn't another company out there that helped others to organize this — to get off the beaten path and find unique experiences that aren't just another stamp in the passport.

So 9 years later, we've now got offices in London and New York and specialize in putting together one-of–a-kind experiences for our clients. We like to put people ahead of the crowds discovering new places, whether that's an undiscovered area of the rain forest in Papua New Guinea or a secret eatery that only the locals know of in Trastevere, Rome.

If a couple plans the honeymoon together, what are some surprises you suggest the groom can plan — or, for that matter, the bride?
• Call your partner's boss and secretly extend your honeymoon without your partner knowing.
• A new trend we are seeing is couples doing "buddy moons." Toward the end of your trip, arrange for your friends or another couple to join the honeymoon.
• Work with a tour operator or travel agent whom you trust and can have a relationship with so they help plan really personalized, one-of-a-kind experiences. For example, if your partner loves art, what galleries are in the area? Can you get them access outside public hours with the curator? Or, if they love cooking, arrange a cookery lesson with a local chef.

Often honeymoons work best with 2 contrasting experiences or destinations so when people have different needs, why not explore how you can combine them?
Tom Marchant
How early should you start planning your honeymoon? Should some of it be left open to allow for spontaneity, or should it all be planned so there's no stress?
• Early. Why add to the stress of the wedding by worrying about finding someplace on short notice? People do (and we often get them out of tricky situations), but if you can plan it early, it is one less thing to worry about and also something to look forward to in the middle of wedding planning stresses.
• Spontaneity is great and we love it, but this is one trip you have to get right. Moreover, pick the right destination and experiences, and there will be opportunities aplenty to be spontaneous.
How can couples avoid falling into the "honeymoon trap," which you have called "conveyor-belt-style honeymoons"?
• Be open-minded to destinations. Work out what you really want/will make you happy on the trip. Too many people conform to what they think a honeymoon should be without really thinking what it's going to give them.
• Mix it up. It doesn't all have to be the same. Pair cities and beaches, mountains and jungle. Same goes for mixing up times for luxe and times for modest (but as part of an experience, like sleeping in the desert). Same with countries. People do "conveyor belt" because they don't stop to think and at times lack imagination or the knowledge of just what is possible.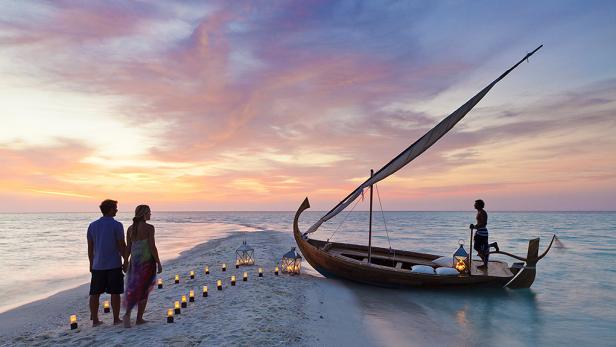 The Maldives
"Want to completely disconnect and relax in secluded privacy? Jet off to the Maldives where you can enjoy the views from an overwater bungalow. There are so many romantic experiences, like watching dolphins play on a sunset cruise, picnicing on a deserted island and snorkeling at night among thousands of fish," says advisor Katie Frederick of Ever After Honeymoons. Couples planning a 2015 honeymoon can look forward to the futuristic 5 Lagoons project which will include a star-shaped hotel and floating golf course.
What honeymoon trends are you seeing?
We are foreseeing an increase in couples looking to take longer honeymoons, or "mega-moons." Choosing to take a 2- to 3-week or longer honeymoon, combining several destinations, ensures that couples really get a chance to switch off and settle into married life. Another trend for honeymoons that we are seeing growth in is couples looking for more extreme and boundary-pushing trips. Whether it's trekking or rafting expeditions in more remote locations, couples are looking for new, once-in-a-lifetime experiences that they can share together.

What would you tell a couple who have 2 drastically different ideas of an ideal honeymoon — one wants to lie on the beach in Fiji, the other wants to go on safari in Kenya.
Without wanting to sound like a relationship counselor, it really is about finding a sense of compromise. Often, honeymoons work best with 2 contrasting experiences or destinations, so when people have different needs, why not explore how you can combine them? For example, if your partner is a nature lover and dreams of a safari honeymoon, but you prefer more of a cultural/beach mix, maybe swap the plains of Africa for an alternative safari in Sri Lanka, where you can see leopards and blue whales, fascinating culture, and then head to the Maldives for some uninterrupted beach time.

What was your honeymoon like? Would you have done anything different?
Fantastic, but possibly the hardest trip to plan ever, given the expectations set. To be fair, my wife is a very relaxed traveler, like me, but obviously, we wanted to get it right. We sailed through the British Virgin Islands before heading (via a couple of nights in Jumby Bay — a stunning Antiguan property) to Jamaica. There, we spent some time at Goldeneye before heading down to Port Antonio to hang out at Geejam hotel, which still, to this day, is probably my favorite property in the world. Rooms are unique in a forest setting just a short walk down to a beautiful, hidden beach. It's no wonder so many leading musicians, from Rihanna to Snoop Dogg, go here to record in the hotel's private recording studios.

What's your favorite romantic spot in the world?
It's tricky to pin down just one. Romance also is determined by whom you are enjoying that place with. If I had to pick 1 city, 1 beach, 1 hotel and 1 adventure, they would currently be:
City: Helsinki
Beach: Little Dix, British Virgin Islands
Hotel: Leti 360, Northern India
Adventure: Trans-Mongolian Express, stopping off in Mongolian's Gobi Desert to travel the steppe and spend nights reading by starlight as you lie under the most magical night sky you will ever witness.
MORE: Travel's Best Honeymoons 2015