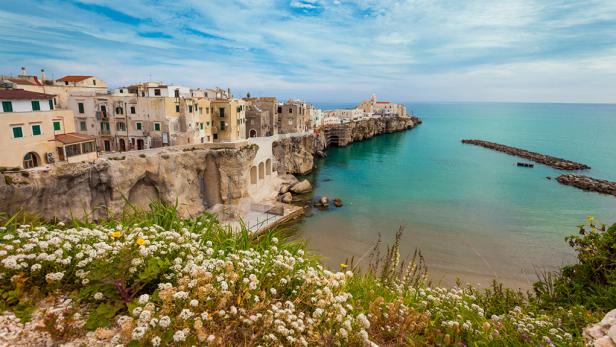 Puglia, Italy
If you're looking for a road trip off the beaten track with plenty of unforgettable food stops, look no further than Italy's Puglia region. With over 250 miles of ancient olive groves, charming fishing villages and glistening Adriatic coastline, Puglia "the heel on Italy's boot," is less tourist trodden than other regions in Italy and best explored on a slow-paced road trip, says Rellihan.

As you drive along the coast of Puglia, steering clear of cattle and steep rocky drops, stop at cliffside wonders like Vieste's fortified whitewashed castle and Bari's Grotta Palazzese, one of the many restaurants nestled inside ancient caves perched over the blue-green Adriatic Sea.
Nothing says "road trip" more than cruising down the highway, windows down and music up, with all your worries disappearing in the rearview mirror and the open road lying ahead. Buckle up and get ready for a ride to remember with Travel's Best Road Trips 2014, our coveted list of the most picturesque and adventurous drives across the globe.
We pulled together a panel of 6 road trip experts — including off-road explorer and host Don Wildman, Roadtrippers.com founder and CEO James Fisher, and cinematographer and road tripper Allison Otto — to share their recommendations for Travel's Best Road Trips 2014.
This year's list includes adventurous off-roading on the salt flats in Bolivia, a shoreline tour of the beaches of Lake Michigan, and a food-inspired drive through Italy's Puglia region.
Warning: This list will give you the sudden urge to drop everything, get in your car, and go.