Mysterious Cases We Can't Explain
These high-profile cases haunt the imagination.
Legends tell of a ghostly-white doe that haunts an island once inhabited by early settlers on the North Carolina coast. Is it the spirit of Virginia Dare, the first English child born in the New World? What about the chilling reports of a winged, man-like creature with red eyes that was repeatedly spotted in West Virginia—only to disappear after a bridge collapsed, killing 46 people?
History is filled with inexplicable mysteries. Take a look back at these high-profile cases and see if you can solve the timeless, haunting riddles.
Croatoan. Was this word, carved into a gatepost, a clue to the fate of English colonists who'd settled on Roanoke Island in 1587?
British explorer John White led the group to the New World, to present-day Dare County, North Carolina. Months after they arrived, White sailed back to England for supplies. Unfortunately, he was delayed on his return—by three years! When he came ashore again in 1590, everyone in the colony had disappeared. He found only the word "Croatoan," the name of an island south of Roanoke, on a post, and the letters "Cro" scratched into a tree.
Theories about what happened to the Lost Colony have circulated for centuries. Did the settlers die from famine or disease? Were they killed by hostiles, or assimilated into a tribe living on Croatoan? Controversial "Dare stones," rocks said to be inscribed with messages from the colonists, started showing up in the 1930s, but historians think most of them, if not all, are hoaxes. However, archaeologists found pottery fragments in 2015 that suggest the colonists split up and moved away after the Roanoke settlement failed. Researchers are still puzzled by what happened.
Stay tuned for a new twist on the Lost Colony. FX's anthology series, American Horror Story, has set its sights on the mystifying story of Roanoke. No doubt the script writers will put their own spooky spin on this puzzling piece of history.
In 1971, a mysterious man using the alias "D.B. Cooper" boarded a Boeing 727 headed for Seattle. After hijacking the plane, he demanded $200,000, which he was given upon landing at Sea-Tac Airport. When the plane took off again, headed for Nevada, Cooper strapped on a parachute and jumped out the back. He was never seen again.
In 1980, a boy found about $6,000 in tattered bills on a beach of the Columbia River. The serial numbers matched the cash given to Cooper, leading to theories that he died when he hit the ground. Then, in 2001, an Oklahoma woman said she suspected her late uncle was the long-missing fugitive. But DNA tests on a tie Cooper left on the plane failed to establish a connection.
The FBI closed the case in 2016, and it remains the only unsolved skyjacking in American history. Did Cooper die, or did he survive the jump and escape to a foreign country? If any more money or a very old, used parachute turns up, the FBI would probably like to hear about it. Otherwise—file this one under cold cases.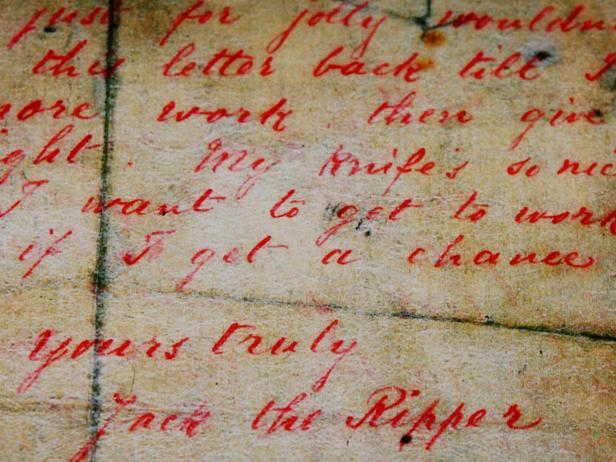 A letter allegedly written by Jack the Ripper and sent to a London news agency on Spetember 25, 1888 is displayed at a press preview of the 'Jack the Ripper and the East End' exhibition at Museum in Docklands, in London, on May 14, 2008. Returning to the scene of London?s most infamous crimes in 'Jack the Ripper and the East End', the exhibition explores the Jack the Ripper murders and their enduring legacy. Visitors can examine orginal documents and artefacts from the investigation and follow the crimes as they unfolded. The exhibition runs until November 2, 2008. AFP PHOTO/Carl de Souza (Photo credit should read CARL DE SOUZA/AFP/Getty Images)
CARL DE SOUZA / Getty Images
Fear stalked the streets of London's East End in 1888, when the bodies of five poor prostitutes were found within the space of just a few months. Their deaths were brutal—their bodies stabbed and mutilated. The press dubbed the killer Jack the Ripper and the Whitechapel Fiend. Six more victims were eventually attributed to this anonymous monster, although no one is sure he was involved.
Over time, the police received hundreds of taunting letters, allegedly written by Jack. Most, experts say, were fakes. Then, the murders abruptly ended later that year.
Jack was never caught, although sleuths are still trying to determine his identity. In 2014, author Russell Edwards used DNA from a victim's shawl to pin the deaths on a Polish immigrant. In 2016, author Mike Covell theorized Jack fled England and was eventually hanged in Australia for other murders. Speculation goes on, and Jack remains one of the England's most infamous serial murderers.
What was the tall creature with red eyes and huge wings that hundreds of people said they saw in 1966, in Point Pleasant, West Virginia? Cynics said the sightings were evidence of mass hysteria, but others thought an old TNT plant in the area, abandoned after WWII, might have been a hideout for the terrifying, human-like monster.
People who spotted the creature began calling it Mothman, after a character in the old Batman TV show. When a local farmer spotted two red, glowing eyes in his dark barn one night, he took aim and fired—killing an enormous, white owl. But residents kept reporting Mothman encounters, some claiming the creature was six or seven feet tall, and that their lights or TVs malfunctioned when it was near. Others said they'd seen UFOs and strange lights around the same time. Was the Mothman really just an enormous owl? Was he an alien or even a supernatural being?
Today, believers celebrate the thing—whoever or whatever it is—at the annual Mothman Festival in Point Pleasant. Visitors can also check out the Mothman Museum, take selfies with a 12' tall Mothman statue, or do a Mothman 5K Run/Walk.
Reports of sightings have largely dried up. But who's to say the Mothman won't return, even if only to make a guest appearance at the festival held in his honor?