Top 5 Places to Stay in Nashville
See our picks for top hotels in Nashville.
Nashville is a popular destination for country music fans but there are plenty of reasons for anyone to visit this welcoming, cosmopolitan Southern city. Read on for some recommendations of great places to stay.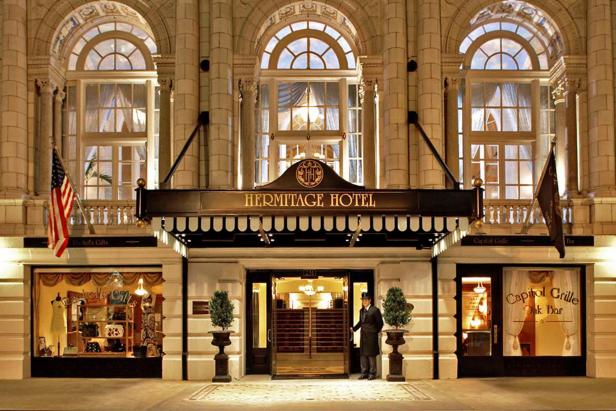 A Classic Hotel With an Eye on the Future
Under the helm of the young, glamorous general manager Dee Patel, Nashville's historic Hermitage Hotel is undergoing a style makeover from the hotel's graphics to its gorgeous lobby, bringing it into a chic new age. Craft cocktails in the rooms instead of stuffy old-school minibars and an ultra-Gen Z pink-themed in-house coffee shop, the Pink Hermit make this downtown landmark elegant with an edgy twist.
One of Nashville's premiere hotels for over a century, the Hermitage Hotel is steeped in history. Six presidents have stayed there, including John F. Kennedy and Franklin D. Roosevelt, as well as luminaries like Bette Davis, Greta Garbo and gangster Al Capone. The lobby oozes old school luxury and the guest rooms have been upgraded to meet 21st-century desires for the finer things.

One of the top restaurants in Nashville, Drusie & Darr, is on the lower level. Believe it or not, one of the big draws to the building is a men's bathroom, a restored Art Deco masterpiece so impressive, it compels women to sneak in and take a peek.
This is a place for the Nashville visitor who wouldn't mind dialing back a bit on the whole "Music City" vibe. One of the newest hotels in town, the Hutton brings an element of style that truly represents the cosmopolitan nature of the city. The contemporary design utilizes décor that is environmentally friendly, including bamboo flooring and furnishings, as well as a hybrid car that shuttles guests to various attractions around town.

The hotel's 1808 Grille, serving New American cuisine, has already established itself as one of the new hot spots. One note: If you want to have a few extra calories at dinner, several of the suites are equipped with in-room cardio equipment.
3. Gaylord Opryland Resort & Convention Center
With over 2,800 rooms and 600,000 square feet of meeting space, this sprawling resort has been a must-see Music City landmark and premiere destination for over 35 years. Almost a city in and of itself, there are dozens and dozens of places and activities to keep you entertained, including a 27,000-foot European-inspired spa, a tour of the Cumberland River on the 300-foot riverboat the General Jackson, and the Grand Ole Opry right next door. Even though the complex is located five miles outside of Nashville, the resort provides plenty of transportation options to allow you to see the sites in the city.

Take note: One of Opryland's most impressive sites is indoors: the nine-acre botanical gardens with a four-story waterfall and 1/4 mile-long river.
4. The Union Station Nashville Yards
A visit to Union Station Nashville Yards allows a guest to take trip back in time to an era where the horse and carriage ruled the roads and the finest way to travel was by train. Built in 1900, this gloriously gothic railroad terminal once held two alligator ponds and helped send Al Capone on his way to the prison. The depot since been turned into a first-class hotel that's conveniently located right in the thick of some of Nashville's most popular attractions.

Be warned: the meticulously restored lobby, with its stunning 65-foot ceilings and 100-year-old stained glass windows has a tendency to have first-time guests looking up in sheer wonder for several minutes upon arrival. So watch your step!
5. Hotel Indigo - Downtown
Another option for visitors looking to experience the hustle and bustle in the heart of Music City is the newly opened Hotel Indigo–Downtown. It opened in 2010 when two buildings built before the Great Depression were combined to create a mixed-use space of 97 hotel rooms, 18 apartments as well as six floors of office space. But while the outside of the hotel is a nod to the city's early history, the interior is a glimpse into Nashville's future, with a recent remodel of the rooms that give it a hip, contemporary feel.

Convenience is a big plus, as all the downtown Nashville attractions are within walking distance. It's also right around the corner from Printer's Alley, an historic entertainment district where Chet Atkins, Waylon Jennings, Hank Williams and Dottie West once performed.