Check out a few of Andrew Zimmern's favorite markets around the world.
Andrew Zimmern travels the world in search of bizarre foods. Visiting markets and bazaars is a great way to connect with the locals. Here's a quick list of some of Andrew's favorite markets from around the world.


Darwin (Australia)

Mindil Beach Market -- best sunset and hottest babes


Cairns (Australia)

Cairns Market -- best banana cake and neighborhood vibe


Sydney (Australia)

Sydney Fish Market -- best seafood


Beijing (China)

Donghuamen Snack Market -- best weird food on a stick


Guangzhou (China)

Qingping Market -- best selection of vegetables


Paris (France)

Rungis Market -- largest market visited


Mapusa, Goa (India)

Mapusa Village Market -- best spices


Tokyo (Japan)

Tsukiji Fish Market -- best seafood and best knife-shopping


Osaka (Japan)

Dotonburi Street -- best people-watching


Okinawa (Japan)

Makishi Kousetsu Market -- best restaurants in a market and best pickled foods


Seoul (South Korea)

Noryangjin Fish Market -- easy-to-find market with the best exotic seafood


St. Petersburg (Russia)

Kuznechny Market -- best honey, sour cream and smoked fish selection


Apia (Samoa)

Makati Fou -- best fruits ever seen and local tobacco


Palermo (Sicily)

Mercato Ballero -- most romantic and best eating while visiting


Santiago (Chile)

Santiago Seafood Market -- piure, the strangest sea critter Andrew has ever eaten (only found here)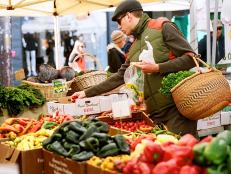 Try shopping at your local farmers market, and taste how eating locally makes such a delicious difference. Here are 5 of Travel Channel's favorites.
Andrew Zimmern's top 15 markets around the world.