Orlando's 5 Strangest Attractions
From an old-school alligator marsh, to biblical recreations, and a tour of the city's haunted spirits, we've gathered up our favorite peculiar Orlando attractions.
Orlando's omnipresent theme parks are many things – entertaining, amusing, educational – but rarely do we think of them as strange. Yet dig a little deeper into the city's off-the-beaten path attractions and you'll find plenty that boggles the mind. From an old-school alligator marsh, to biblical recreations, and a tour of the city's haunted spirits, we've gathered up our favorite peculiar Orlando attractions.
Part of Florida's great charm is its penchant for local kitsch, and Gatorland certainly fits the bill. For more than 60 years, this quirky spot has entertained travelers from the moment they stroll through the park's enormous, alligator mouth-shaped entrance. The 110-acre theme park is the self-proclaimed "Alligator Capital of the World," and houses hundreds of gators which you'll see up-close on a behind-the-scenes tour of the Alligator Breeding Marsh, or during one of the parks Gator Wrestlin' or Gator Jumparoo (yes, gators can jump) shows. Adventurous visitors can ride the 1,200-foot-long Screamin' Gator Zipline, whizzing past hungry gators down below. If you still don't have your fill of reptiles, the Trainer for a Day program allows you to hold baby alligators.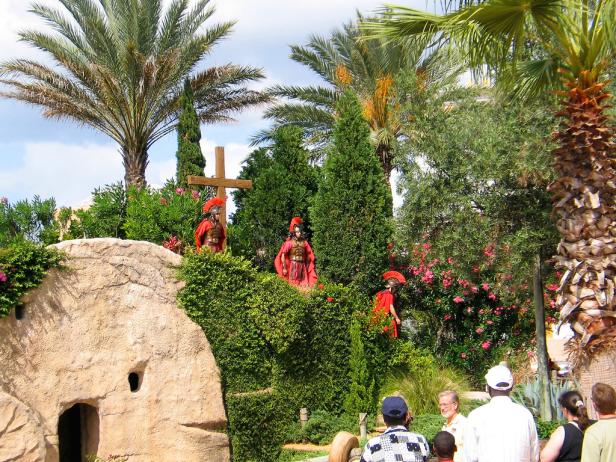 Holy Land Theme Park in Orlando, Florida
Holy Land, located in Orlando, Florida, is a Christian themed attraction that holds weekly church services and Bible studies for the community. Throughout the park, there are vignettes set up that depict portions of the Bible. Pictured here are the Roman soldiers coming down to the tomb after Jesus' resurrection. 
Billed as a "living, biblical history museum," the Holy Land Experience easily wins our award for the most unexpected Orlando attraction. This Christian-themed park recreates the ancient city of Jerusalem. You'll enter the complex through an archway modeled after the Damascus Gate, then wander past 40 exhibits, including a Middle Eastern marketplace complete with touts dressed in period garb, and a replica of the caves where the Dead Sea Scrolls were unearthed. Interactivity is key at the Holy Land, and guests can watch live entertainment in the Temple Plaza, take part in a Baptism ceremony, or even watch a live reenactment of the Passion of Christ.
The Presidents Hall of Fame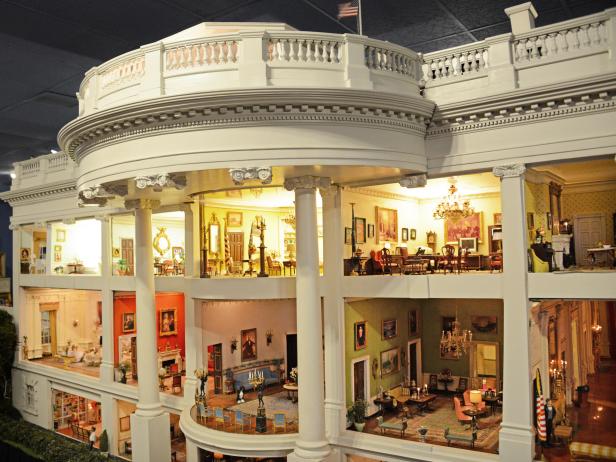 The Presidents Hall of Fame Museum in Orlando, Florida
The Presidents Hall of Fame museum is a unique attraction dedicated to US presidents and their families. Among the exhibits at this museum are a miniature Mount Rushmore, wax figures of the presidents and their wives and a miniature replica of the White House. 
Peter W Cross / Visit Florida
Sure you can trek all the way up to Washington D.C. for a lesson in White House history – or, while you're chilling in Orlando, you can make your way to the President's Hall of Fame, which pays homage to the nation's capital, as well as its monuments and history. Visitors can stroll past miniature recreations of sights like Mount Rushmore, the Lincoln Memorial, and of course, the White House. In fact, the White House has been so lovingly designed that there are representations of each room of the house during every president's residency there – yup, all 43 of them. These White House displays rotate regularly. Other exhibits include recreations of First Lady inaugural ball gowns, animatronic presidents, china patterns, and even a dresser that once lived in Caroline Kennedy's bedroom.
American Ghost Adventures
Too often, visitors arrive in Orlando and only experience the thrills of the city's shiny, new attractions, when in fact, the town has a storied history that's also well worth exploring. The City of Orlando was founded in 1885, and today, people can see some of that history in the original building of Church Street Station and on historic tours. One unique way to dive into the city's past is on a haunted tour with American Ghost Adventures. Guides with a penchant for the paranormal lead guests on a hunt for the hereafter's (mostly friendly) spirits. You'll trek through some of the city's oldest hotels and buildings, passing by notorious haunted spots. During the latter half of the tour, guests are given EMF detectors, so that they can witness some of the electromagnetic oddities in Orlando's buildings for themselves. A haunted pub tour is also available, for those in need of liquid courage.
No, you're not seeing things; the Wonderworks building actually is built upside down, and plopped smack on the street in Orlando. This "amusement park for the mind" serves to spark the imagination and broaden the intellect with more than 100 interactive exhibits. Legend has it that the space was once a top-secret laboratory in the Bermuda Triangle, but after an experiment when terribly wrong it was flung through the skies and landed upside down on International Drive. Visitors will have the chance to experience an earthquake in the Disaster Zone, lie on a bed of 3,500 nails, experience hurricane-force winds of 71-mph in the Hurricane Shack, and climb into a replica space capsule.
MORE: Top 10 Attractions in Florida

We're sorry, there seems to be an issue playing this video. Please refresh the page or try again in a moment. If you continue to have issues, please contact us here.