NYC: America's Melting Pot
Check out Travel Channel's guide to New York City's ethnic neighborhoods.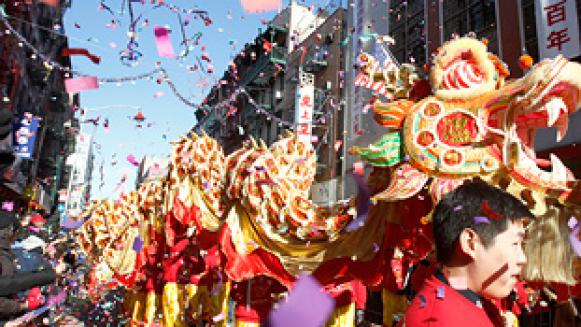 USA/
Confetti falls as a dragon dance troupe performs during the annual Chinese Lunar New Year parade in New York's Chinatown February 6, 2011. The Lunar New Year began on February 3 and marks the start of the Year of the Rabbit, according to the Chinese zodiac. REUTERS/Jessica Rinaldi (UNITED STATES - Tags: SOCIETY)
© Jessica Rinaldi / Reuters
The Statue of Liberty and Ellis Island have welcomed millions of immigrants from all over the globe. Many immigrants, like the Irish who escaped the Great Famine in the 1840s and '50s, arrive poor, live in crowded conditions and take menial jobs. Eventually, they move out of tenements and build better lives in their new homeland. New York has always embraced and nurtured these ethnic groups who continue to live in vibrant neighborhoods and share their unique cultures with visitors.

Arthur Avenue, The Bronx
Think that the best Italian food is in Little Italy? Fugheddaboutit. Arthur Avenue in the Belmont community in the borough's central section is considered the Little Italy of the Bronx, with rows of Italian restaurants and specialty markets. Stop by Mike's Deli to pick up olive oil and enjoy dinner at Dominick's Restaurant where you'll share tables with others and eat whatever they're serving. You got a problem with that?

Chinatown, Manhattan
New York's Chinatown is home to the largest Chinese community in the Western Hemisphere. Winding streets are flanked with shops that sell everything from herbal medicine to silk to fish to bok choy. Chinese New Year is huge in this neighborhood, and the parades full of colorful dragons are not to be missed.

Chinatown is also spot-on for dim sum; Jim Fong is a huge space with more than 100 dim sum menu items. For dessert, the Chinatown Ice Cream Factory is the spot for lychee ice cream.

Harlem, Manhattan
Not too long ago, Harlem was in decline. Today, it's a hip place to visit and live. The beauty of Harlem is that, while it is experiencing gentrification with trendy boutiques and restaurants, it manages to retain its soul.

The neighborhood has a jazzy past (Duke Ellington played here), and it's still hot for gospel. Several tours celebrate Harlem's musical heritage, including Harlem Spirituals.

Soul food and clap-your-hands gospel are why Sylvia's is beloved. Praise the food: the Sunday brunch, which includes catfish, waffles and fried chicken, is a raise-the-roof experience.

Visitors should also visit Spanish Harlem (aka El Barrio), especially La Fonda Boricua; the arroz con pollo will transport you to Puerto Rico. El Museo del Barrio[elmuseo.org] is New York's only museum dedicated to Latino culture.

Little Italy, Manhattan
Many of this neighborhood's Italians have moved to the 'burbs (a la The Sopranos), saying bon giorno to the days when Little Italy charmed with Old World accents. In recent years Chinatown has pushed in, blurring the boundaries.

It's still all about the food here (not unlike Italy itself), and you'll find restaurants that'll have you singing arias. Go to Umberto's Clam House on Mulberry Street for traditional Italian specialties.

September's Feast of San Gennaro, celebrating the patron saint of Naples, is one of the City's liveliest festivals.

Lower East Side, Manhattan
Pickles and corned beef define the Lower East Side where the City's earliest immigrants set up shop. Today, the area has been reborn with trendy shops and restaurants. But there's still a flavor of the past like Katz's Deli, which dates to 1888. Savor another taste of those days with a visit to the Lower East Side Tenement Museum.

Koreatown, Manhattan
In the shadow of the Empire State Building in Midtown, you'll swear you're in Seoul. The vibrant streets of K-Town buzz with karaoke clubs and Korean restaurants. Don's Bogam is a sought-out spot for Korean table-top barbecue.

Brighton Beach, Brooklyn
Travel to the southern coast of Brooklyn to explore this strong Russian community. Walk the boardwalk from Coney Island to reach "Little Odessa," where you'll find plenty of pierogi, borscht and, yes, vodka. A popular supper club restaurant is Tatiana.

Astoria, Queens
Boasting the largest population of Greeks outside of Greece -- Opa! --and some of the best Greek restaurants in town, don't pass on a visit to this bustling Queens neighborhood. Restaurant row is on Ditmars Boulevard, including tiny Taverna Klycades.

So if a trip across the Pond isn't in the cards this year, visit New York City's ethnic neighborhoods for a rich cultural experience. No passport required.


Laurie Bain Wilson writes often about New York City and is the author of several travel guidebooks, including New York City Made Easy and New York City with Kids.