Family Fun and Adventure Trips Near Atlanta
Atlanta's growing music scene and celebrity-infested restaurants are the perfect choices for enjoying the livelier side of this Southern jewel. Its alternate personality also offers great options for family getaways, multigenerational memories and fun that the kids will talk about all year long. From the city center to the outlying suburbs, unique experiences in nature and high-intensity thrills are all within a day's reach.
Take 1 part museum, add interactive exhibits, sprinkle in foreign commercials, splash it with some of the friendliest employees, and top it off with tastings from around the globe. The recipe is as unique as the carbonated soda it celebrates. The World of Coca-Cola spews color and happiness, all centered on the history of the drink that began in 1886. Have a meet-and-greet with a 7-foot-tall ambassador of happiness, the Coca-Cola Polar Bear, to commemorate your day. Mini museums, a 4-D theater, bottling operations and even Olympic history can all be explored. The most popular section is saved for the very end. The tasting room allows you to sample more than 100 beverages from around the world. Be sure to have your camera ready, and don't miss the popular Italian drink called Beverly.
The World of Coca-Cola is directly adjacent to the Georgia Aquarium and the Center for Civil and Human Rights. The Children's Museum of Atlanta, the College Football Hall of Fame, the SkyView Atlanta Ferris wheel, the Inside CNN Studio Tour, Centennial Olympic Park and Game-X are all within walking distance. Choose 1 attraction or visit many to make a full day in downtown Atlanta.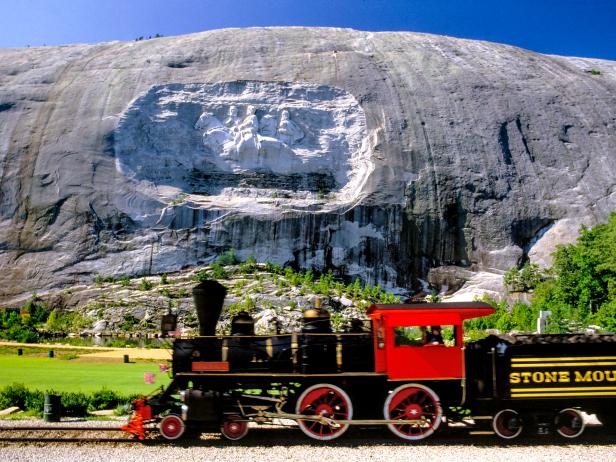 train, mountain, carving in mountain cliff, blue sky, greenery, daylight,
Stone Mountain is a city and a State Park in DeKalb County, Georgia, in the United States. Stone Mountain is located in the eastern part of Dekalb County and is an outer suburb of the Atlanta Metropolitan Area.The story of Stone Mountain actually predates both the first white settlers and the Creek Indians before them. At least 12 Archaic Indian sites have been identified in the vicinity of Stone Mountain.The engraving shows four central figures, Jefferson Davis, Stonewall Jackson, Robert E. Lee and a color-bearer.In 1970 Spiro Agnew dedicated the carving, filling in for President Nixon who was embroiled in the Kent State fiasco. The carving was declared completed in 1972.
Luis Castaneda Inc. / The Image Bank / Getty Images
A long way from its first effort to lure tourists, a climbable wooden tower built on top of the mountain in 1838, Stone Mountain is now billed as "Georgia's most popular attraction." This 3,200-acre mecca for family-friendly fun has options for nature lovers, history buffs and thrill-seekers alike. Its diversity makes it the perfect multigenerational family destination. View the carving on the mountain, the largest high-relief sculpture in the world, and summit the peak by foot or cable car. Hike part of the 15 miles of trails to discover streams, nature gardens and a grist mill. Tour the Antebellum Plantation and Farmyard, where kids can pet and learn about various animals, or ride a WWII-era amphibious vehicle into Stone Mountain Lake. The Crossroads area of the park serves as the central point for activities such as a scenic railway, a 4-D theater, indoor play features, a treetop adventure course, miniature golf, restaurants and even a water-themed ropes course.
However you choose to spend your day, just be sure to end it with the world's longest-running laser show. Held April through October, the Lasershow Spectacular is music, theater, Americana nostalgia, brightly colored lights and special effects rolled into 45 minutes of outdoor entertainment.
Noah's Ark Animal Sanctuary
Animals are the cornerstone of many inspired family adventures. Noah's Ark takes that inspiration to an entirely different level. This animal sanctuary is a welcoming haven for the abused, unwanted and neglected. The beautiful, parklike setting is contrary to what you might imagine a rescue to look and feel like. Walk the mile-long trail through the animal habitats as you weave among trees and in and out of shade. In addition to the rescued inhabitants, you may see wild deer and other native animals during your walk. A trio of celebrities also call Noah's Ark their home: Affectionately referred to as BLT, Baloo the bear, Leo the lion and Shere Khan the tiger live, sleep, eat and play together. They and more than 1,500 other animals representing 100 species can been seen Tuesdays through Saturdays when the sanctuary is open.
There is no entrance fee. Instead, this non-profit center accepts donations to support the organization that also serves as a sanctuary for children in need, having fostered more than 400 kids through the years.
If you want to really dive into the daily happenings and learn more about what it takes to run an animal rescue, guided tours and day-long keeper programs are available for an additional charge. A welcome center, playground and picnic area encourage you to take your time and spend the entire day.
The largest regional theme park in the Southeast has thrilled and entertained several generations of parkgoers since 1967. Three interactive children's areas cater to the smaller family members, while 12 coasters challenge the thrill-seekers. A water-dominant section of the park, Hurricane Harbor, features 7 additional acres of liquid-cool rides and wave pools. Shops, restaurants and special shows round out the daily offerings.
Where adrenaline meets serenity, you will find Historic Banning Mills. Less than an hour west of downtown Atlanta, this hidden treasure is situated in Snake Creek Gorge. Horseback riding and kayaking can be enjoyed on this sprawling retreat. Watch a birds-of-prey show, or learn more about falconry and participate in a falcon hunt. If you really want to feel the wind whipping through your hair, try the property's 2 world-record-holding attractions: the world's largest and longest zip-line tour and the world's tallest freestanding climbing wall. The thrills extend to the smallest members of the family, with aerial options for children as young as 4.
Should your day trip turn into an impromptu overnighter, opt for one of the tree-house rooms. Perched high in the branches and accessible only by a sky bridge, they come complete with all the modern conveniences of home, including a Keurig.