Napa Valley Weekend Guide
Sample the wine, and enjoy the scenic hills and valleys on a weekend getaway to Napa.
Napa Valley is the ultimate weekend destination for wining, dining and relaxing in California's best vineyards and restaurants. Sample the wine, and enjoy the scenic hills and valleys on a weekend getaway to Napa.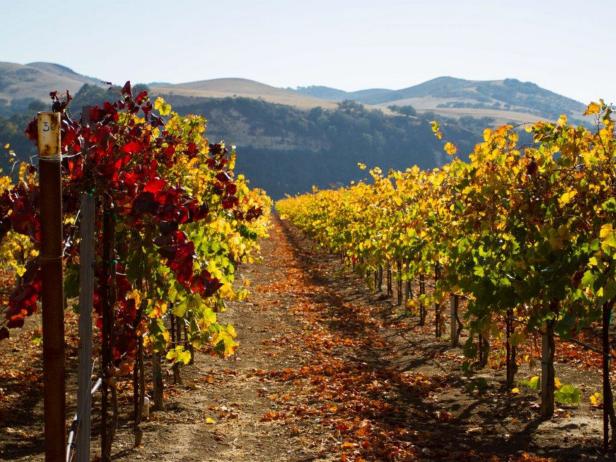 Rancho Sisquoc Vineyard
The Santa Maria Valley is hot right now. Why? For starters, the cost of living and of properties in this Central Valley region are much less expensive than up north in Napa. And that in turn is attracting many young, up-and-coming winemakers to the area. Fruit is so spectacular here that many northern winemakers are traveling south to purchase pinot grapes. Mild days and cool evenings help Chardonnay and Pinot Noir grapes reach their maximum potential—the climate is ideal for these varietals, with its perfect flow of air from the coast without being blocked by mountains. The young, male duo at Scar of the Sea is receiving very high marks from top wine publications, and the Presqu'ile Winery, led by a young, South African wine maker, just built a $200M tasting room. And veteran Rancho Sisquoc, who has been planting grapes in the area since the late 1960s, is situated on a 37,000-acre cattle ranch nestled in the Foxen Canyon Wine Trail and today produces more than 20,000 cases per year. 


There's nary a hotel room in sight at the luxe Calistoga Ranch. Instead, you'll find freestanding lodges including deluxe cottages with 600 square feet of space and the sprawling two-bedroom, 2,400-square-foot Estate Lodge nestled on the quiet shores of a creek. There's serious attention to detail both inside and outside of each room with private outdoor decks including an outdoor garden shower.
Maison Fleurie, or the Flowering House, is a romantic French-country-style bed and breakfast in Yountville. You'll find an explosion of flowers in each of the 13 rooms with carefully chosen furniture and cozy beds topped with luxurious bedspreads, piles of pillows and even a resident teddy bear. Many rooms boast fireplaces and Jacuzzi tubs. You won't go hungry at Maison Fleurie with the daily breakfast buffet and afternoon wine and tea with snacks and homemade cookies.
The Wine Country Inn in St. Helena is equally romantic with modern styling and beautifully manicured grounds. Choose from 20 rooms, four suites or any of the five luxury cottages. Many of the standard rooms have a fireplace, whirlpool and a balcony or patio with a view of the vineyards. As charming as the rooms are, it's not likely you'll spend much time in them--you'll probably be taking advantage of the inn's amenities and the proximity to St. Helena's wineries. After a day of sipping wines, take a dip in the pool or take a stroll along the cobblestone paths through the gardens filled with flowers and olive trees, then head off for afternoon appetizers. Let the hotel staff be your designated driver and take advantage of the inn's free restaurant shuttle for a lift into town for dinner. Just be sure to make a shuttle reservation as the van fills up quickly.
If you're planning a day of winery-hopping, you'll need some sustenance to soak up all of those tastings. Oakville Grocery has been providing picnic supplies since 1881 with gourmet box lunches to take on your wine trail. The Vintner Box Lunch includes a sandwich, side salad, fruit, cookie and water while the Wine Country Box Lunch has a salad with sliced baguette, water and dessert bar. If you can't wait to dig in, unpack your spread at one of the picnic tables outside of the shop.
Chef Richard Reddington's elegant restaurant Redd in Yountville is a fusion of classic wine-country cuisine and Asian, European and Mexican influences. Lunch and dinner tasting menus highlight signature dishes like glazed pork belly with apple puree and soy caramel or duck and Swiss-chard crepes served with celery root and chocolate sauce. If you're looking for a casual snack, head to the bar for prosciutto pizza with arugula, fontina and parmesan or pork and shrimp pot stickers served atop a cool cucumber salad.
Thomas Keller may be one of the most recognizable chefs from the Napa Valley region since his refined restaurant The French Laundry became a wine-country icon after opening in 1994. Sister restaurant Bouchon is just down the road in Yountville offering homey French bistro food. Start with oysters and a glass of chilled bubbly or splurge on California Sterling White Sturgeon Caviar before moving on to a buttery seared flatiron steak with frites or braised beef short ribs.
With more than 400 wineries in Napa Valley, the most difficult decision for the weekend may simply be where to begin tasting. Many inns and local companies offer tours of the region's most popular wineries. But if you want to go at your own pace, we recommend a mixture of the area's classic wineries as well as some unique spots to round out your day. Legendary filmmaker Francis Ford Coppola has an equally impressive reputation in the wine world, and a tour of his estate at Rubicon is a testament to his good grapes. Check out the artifacts at the Centennial Museum and sample five different wines in the sandstone tasting room. Frog's Leap Winery offers a small, guided tour of the vineyards where you can learn about how the group grows its organic grapes before indulging in the seated tasting on the wraparound porch. Take a free tour, and bring along a picnic lunch to enjoy on the grounds of Clos Pegase, the Calistoga winery designed by Michael Graves. Finally, to balance out all the booze, visit the Hess Collection where you can sip wine and then enjoy the masterpieces at the Contemporary Art Museum.
You'll need to get a bit dirty to fully appreciate Dr. Wilkinson's Spa, a Calistoga institution for rest and relaxation in the heart of wine country. The signature mud bath treatment known as "The Works" involves a dunk in a deep tub filled with healing mud made from peat and volcanic ash. An attendant carefully smears more mud on your face and covers your eyes with chilled cucumber rounds before leaving you to relax in the warm mud. After a quick shower, you're ready for the next phase of your treatment: a soak in bubbling mineral waters and time in the mineral steam room before you're wrapped in thin cotton blankets for a quick snooze.
Get a new perspective on Napa's rolling hills and scenic valleys while floating in a hot air balloon from 1,000 to 3,000 feet in the air. Adventures Aloft organizes hot air balloon trips from their launching pad at the Vintage Estates in Yountville. Your hot air balloon adventure sets off just after dawn for panoramic views of Napa's popular vineyards and may take anywhere from one hour to one hour and 45 minutes depending on wind currents and speed.
For a town that's devoted to producing wine, Napa is surprisingly quiet when the wineries and restaurants shut down for the night. In downtown Napa, Uva has live music six nights a week with no cover charge. Every Saturday night brings special guest performers known for their jazz and blues. Silos Jazz Club has live music at the historic Napa Mill from Wednesday through Saturday. The more diverse musical selections include jazz and blues as well as some reggae, folk, rock, Motown and cover bands.
Take a break from the vino, and fill up on margaritas at Ana's Cantina at 1205 Main Street in St. Helena. The crowd is more rambunctious than the generally buttoned-up scene around town with tequila, dancing and live music on the weekends until 2:00 a.m.
For more refined night music, check out a performance by the Napa Valley Opera House. In addition to opera, there's dance, comedy, theater, musicals and family shows throughout the year. In the summer, there's music under the stars during the annual summer music festival at the Robert Mondavi Winery. Tickets start at $60 for lawn seats, and you can purchase wine and food, including barbecue and sweets, at concessions around the vineyard.
Travel Channel Insider's Tip
Work for your wine on a bike tour through wine country with Getaway Adventures. The Calistoga Sip 'N Cycle is a guided bike tour along Napa's out-of-the-way country roads and the Silverado Trail to visit the picturesque wineries along the way.